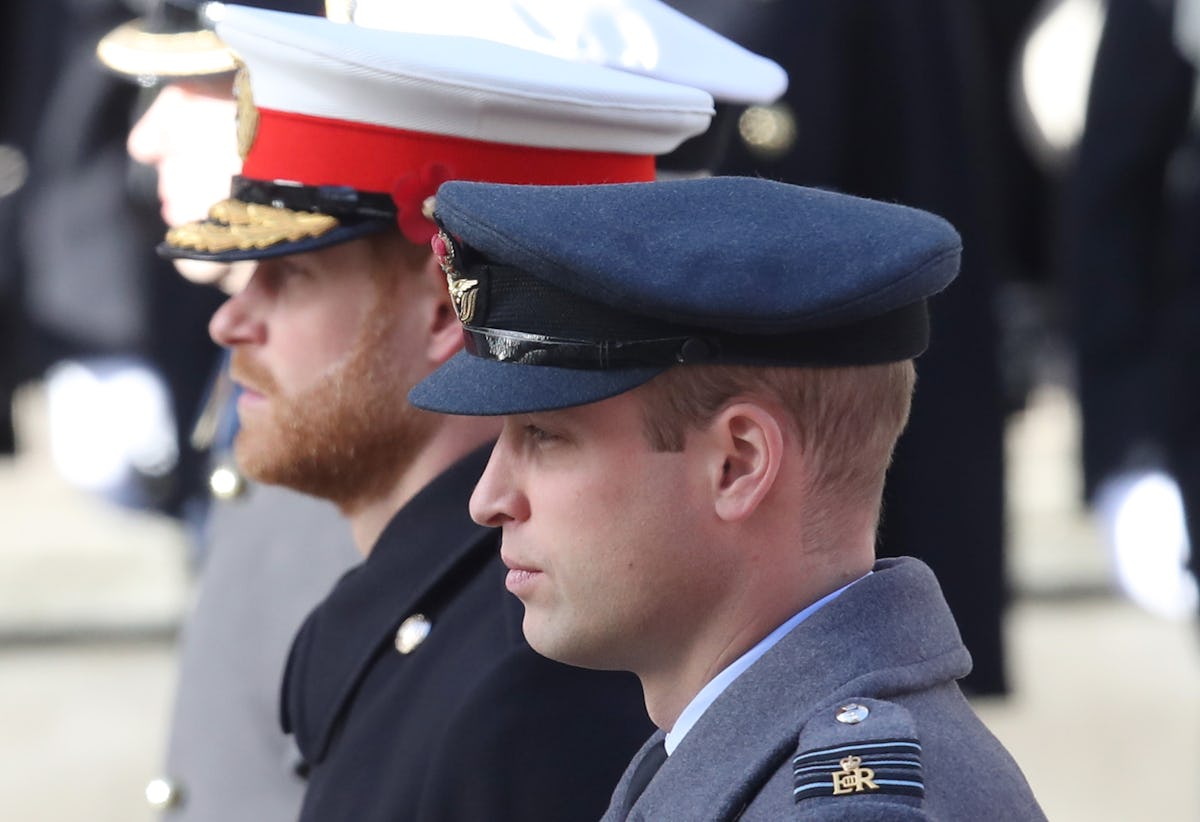 Prince Harry & Prince William's Quotes About Each Other Reveal A Complicated Bond
Chris Jackson/Chris Jackson Collection/Getty Images
Celebrity relationships and friendships are a rare breed. These famous faces have their lives played out in front of the masses, whether it's the good, the bad, or the straight-up shady. In Elite Daily's new series, It's Complicated, we're highlighting the biggest celebrity "feuds" that took over Hollywood and dominated our Sunday brunches for weeks on end. We'll take a deep dive into the lives and social media feeds of our favorite stars and dissect what happened in front of the camera, what went down behind the scenes, and everything you might have missed in between.
Siblings are complicated. Usually, you hear about how they are equal parts your best friend and your worst enemy. They traditionally drive you mad while simultaneously being the only people who "get" you. In the instance of the Dukes of Cambridge and Sussex, Prince William and Prince Harry, I can only assume these truths are magnified times a billion. Prince Harry and Prince William's quotes about each other reveal their bond is extremely complicated, which makes total sense.
Think about it: They've been through some sh*t. Who else gets what it's like to be a literal heir to a literal throne? When the world experienced the crushing loss of Princess Diana, Harry and William were experiencing the crushing loss of their mother. They saw the invention of the internet as teenagers inside the Palace walls. They survived the birth of social media as young public figures in one of the most traditional infrastructures out there. Neither of them has married "official" royalty. To put it plainly: No one knows what it's like to be William and Harry except William and Harry.
Understandably, all of this might make for a complicated relationship. The usual sibling rivalries plus the added weight of being in a position of authority (I mean, one of them is England's future king!) must make it excruciatingly tricky to communicate at times. Here are a few quotes that just touch the surface of what I mean:
On their current bond:
In 2018, Prince William met with the Best Man Project, an organization designed to encourage men to support each other. During that talk, Prince William explained he feels closer to Prince Harry than ever before and credits that to all they've been through. "My brother and I's relationship is closer than it's been because of the situations we've been through," he said, adding:
Losing our mother at a young age has kind of helped us sort of travel through that difficult patch together. When you're like-minded, you go through similar things. It's a bond and it's something that, you know, you've tackled it together and come out the other side better for it.
On each other's hair:
I'm not going to sugar coat it: Prince William is objectively balding and Prince Harry objectively has red hair, which there is absolutely nothing wrong with. Still, leave it to brothers to poke fun at each other's looks.
In 2009, William and Harry were interviewed during helicopter training. At the time, Prince Harry admitted his brother has more "brains" than him, but that he is better "hands on." Prince William interjected, claiming he is also the better-looking sibling. According to this AP Archive video of the interview, Prince Harry simply stated back, "baldness," to which the older royal replied, "That's pretty rich coming from a ginger."
You can catch the moment at the 1:28 time-stamp in the video below:
On finding their independence:
Prior to Meghan and Harry's engagement, it sounds like Prince Harry spent a lot of his time lingering around Prince William's household. When Meghan and Harry first got engaged, Town & Country magazine reported that Prince William said, "We're very excited, delighted for them both. We're wishing them all the happiness in this very exciting time," going on to add, "For me, personally, I hope it means he stays out of my fridge and will stop scrounging my food, which he's done for the last few years!"
Oh, brother.
On how their mother's death affected their relationship:
In 2017, TIME released a video of Kate Middleton sitting down with her husband and brother-in-law to have a candid conversation about mental health for the organization Heads Together. Kensington Palace tweeted part of the video, too. During their chat, Kate explained, "I do think it's incredible how strong and how you've been able to cope really, and I put that down to your really early years, childhood experience," adding, "but also the relationship that you've got. You're amazingly close."
Prince William jokingly jumped in stating, "Most of the time." However, he thoughtfully added, "But we have been brought closer because of the circumstances. That's the thing. You know, you are uniquely bonded because of what we've been through."
Interestingly, William and Harry both admit they haven't talked enough about their mom together. "Never enough," Prince Harry said. In Prince Harry's point of view, he always felt that it wouldn't be useful to "bring up the past," as he put it. According to him, sometimes Prince William would want to talk about it, but for him, he just wanted to move forward.
Prince William thoughtfully added,
What's happened with us and what's happened with others... you have to prioritize your mental health. You have to say to yourself at some point — because it's very easy to run away from it, to walk away from it, and avoid it the whole time — someone has to take the lead and be brave enough to force that conversation.
Look: No one ever said it was easy being princes. Fortunately, with both of the guys' growing families, the dynamic and support continue to change and grow, too.