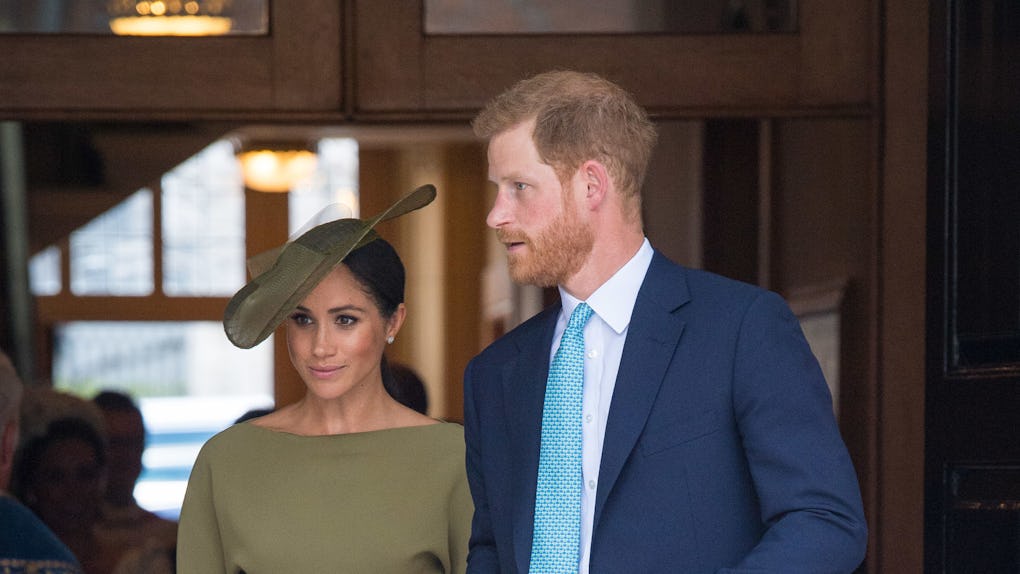 WPA Pool/Getty Images Entertainment/Getty Images
Prince Harry & Meghan Markle's Body Language At The Christening For Prince Louis Is Goals
I honestly thought that, after their epic wedding, I would be kind of over Prince Harry and Meghan Markle, but it turns out it was just the beginning of my fascination with them. Since I just can't seem to get enough of my favorite royal duo, any public outing has become a perfectly legitimate excuse to take a deeper look at how things are coming along for this couple after the their I Do's. So, to see what we can learn about Prince Harry and Meghan Markle's body language at the christening of their nephew Prince Louis, I reached out to body language expert Blanca Cobb. Spoiler alert for fans of this couple: Things are looking good.
OK, before we go any further, I realize this piece is all about Meghan and Harry, but can we all please take a moment to look at Kate's Jane Taylor hat in these photos? (Don't get me wrong, the Alexander McQueen gown is gorg, too. But that hat. I'm screaming!) If you need me, I'll be over here, dead, slain by that hat.
That's enough millinery swooning — back to Harry and Meghan's body language love story. Here's what Cobb sees about the state of the royal couple's relationship, in the images of Meghan and Harry taken at the christening.
Meghan and Harry are in sync.
In this image, Cobb sees a couple that is "completely in sync." She explains that she can see this because, even in a posed and extremely formal photo, their body language mirrors one another "from the angle of their bodies to the hand clasp in front of them." According to Cobb, these examples of unconscious copying of body language are "all signs that indicate that the newlyweds [are] connected even in formal settings and photos."
The couple wants to be close to one another.
Typically, in formal settings, the couples are less likely to hold hands or show public displays of affection because they consider it unprofessional, so any time you see this happening (even small amounts of PDA like Meghan holding Harry's arm in this picture), it's worth noting, because it's significant.
Cobb picked up on this immediately, noting how "Meghan subtly grabs onto her man regardless of the formal nature of the photo." What they are conveying here, says Cobb, is closeness, which "is exactly what you'd want to see in a loving couple," says Cobb. She adds, "Her gesture indicates that showing her connection to him is more important than etiquette. Who wouldn't love that?"
There's no shortage of love and affection here.
In this image, it appears Prince Harry is waiting for Meghan to catch up to him, but, again, Cobb sees subtle signs of the couple being affectionate and connected. She explains, "Even though Harry's in front of Meghan, she has her clutch and gloves in the hand opposite of him." While this is a subtle clue, Cobb says that, by holding things in her right hand, she's keeping her left hand free, "which suggests that she's making sure nothing gets in between them. It'll be much easier to take his hand when she catches up to him." Aww, come on, these two are just so adorable. I am living for their love!
So overall, what does Cobb see when she looks at these images? "I think that their relationship is solid," she says. And as for how Meghan is fitting in with her new royal family? Cobb says, "Meghan is adjusting well to into her new role." But most of all Cobb says she can see that, "their love for each other comes through in all occasions and settings, which has to make them feel good." It makes me feel pretty good, too. Meghan + Harry = Forever.
Check out the "Best of Elite Daily" stream in the Bustle App for more stories just like this!