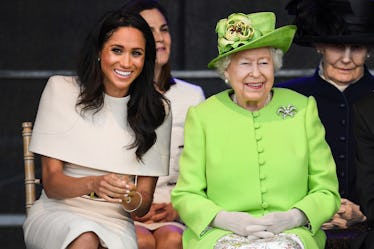 How Meghan Markle's Body Language Around The Royal Family Has Changed Reveals So Much
Jeff J Mitchell/Getty Images Entertainment/Getty Images
Meghan Markle and her road to becoming royalty was a journey most of us genuinely could not get enough of. (And don't even get me started on how elegant she looked walking down the aisle on her wedding day.) She's living a real-life fairy tale that has us hooked. Ever since the announcement of her engagement to Prince Harry, Duke of Sussex, seeing how Meghan Markle's body language around the royal family has changed is pretty interesting.
Think about how much Meghan's life has transformed, and you tell me that's not going to be represented in her body language. Consider the idea that most, if not all, of the people the Duchess of Sussex currently surrounds herself with have been royal way longer than she has. Even Kate Middleton, Duchess of Cambridge, who wasn't royal before she married Prince William, Duke of Cambridge, has been in the royal spotlight for quite some time now.
With all eyes on the newly-married couple, many of us have been swooning over every picture of Meghan from recent royal engagements. Elite Daily reached out to several body language experts to interpret pictures from when Meghan was engaged to Prince Harry, as opposed to once they tied the knot.
Meghan kept a "respectful" distance.
This picture was taken of the two couples at Commonwealth Day. According to body language expert, Lisa Mitchell, "In the photos of her interacting before being married into the Royal Family, she's more prone to have a 'respectful' distance between her and whoever she's interacting with in the family, deferring to their position and keeping a more formal feel to the exchange."
Meghan looked to Kate for direction.
In previous articles about Kate and Meghan's body language, it's obvious the duo gets along well. There are major sister vibes we get from them, even before they became sisters-in-law. In a way, Meghan has someone to show her the ropes, because Kate is leading by example with this royal role and the expectations that come along with it.
Elite Daily spoke with Traci Brown, body language expert and author of Persuasion Point, and she reveals that in this particular image, "[Meghan is] looking to Kate for a little direction — maybe permission to laugh or behave a certain way?"
It's very much like the behavior of two sisters, and body language expert Blanca Cobb also caught onto their similar mannerisms. She reveals to Elite Daily, "Meghan shows a sisterly bond with Kate in the ways their body language mirrors each other. In the photo, notice the similar hand clasp on the lap as Meghan is looking at Kate."
Meghan is really starting to find her place in the family.
Now that Meghan and Prince Harry are married, she is expected to attend royal affairs and make countless appearances. Mitchell tells Elite Daily, "She looks much more engaged and self-assured with her position in the family in recent interactions verses a more formal and reserved demeanor in her pre-marriage interactions."
In other words, Markle has seemingly shaken those first-time royal jitters and seems to be fitting in so well with the Royal Family. Mitchell continues to tell Elite Daily, "Recent photos also show a more animated Meghan during interactions, with more gestures, covering her mouth a bit as she laughs, and a genuine smile on her face during the encounters."
Meghan and the Queen are truly hitting it off.
By the looks of this sweet photo, this duo is all smiles and enjoying whatever conversation they seem to be having. Brown explains, "Now that she's been with the queen alone on an outing, we see that they have a caring connection." This is the closest we've seen the two together, and their body language reveals a closeness beyond just a kinship due to marriage.
There are so many mannerisms and traditions Meghan had to learn as she merged into the Royal Family. So far, I think she's doing pretty spectacular.