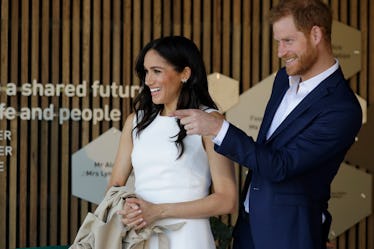 Prince Harry & Meghan Markle's Body Language After Their Pregnancy Announcement Is Protective
Pool/Getty Images Entertainment/Getty Images
Attention, attention! On the extremely rare chance you haven't already heard, Meghan Markle is pregnant! The news broke on Oct. 15, after Kensington Palace tweeted that the Duke and Duchess of Sussex are expecting their first child, due spring 2019. Prince Harry and Meghan Markle's body language after their pregnancy announcement was all sunshine and rainbows, as it always is with these two. (Thank the heavens because I am here for it.) They touched down in Sydney the day of the announcement to begin their 16-day tour of Australia, New Zealand, Fiji, and Tonga. On their arrival, Harry and Meghan received a toy kangaroo and a pair of tiny Ugg boots from the Governor-General of Australia and his wife. Talk about the perfect, "Congratulations! You're expecting!" present.
If you thought this royal couple couldn't get any more adorable, I'm here to tell you they most certainly can. Prince Harry has always been protective of his beautiful bride, and now that they're expecting, he's even more so. (I know. I didn't think it was possible either.) "Normally, they walk side by side, but in almost [every] photo here, Harry is walking slightly in front of Meghan," body language expert Lisa Mitchell tells Elite Daily. "He's in front of her with his arm overlapping her torso in almost every picture of them walking, showing that he's there to support her and be a protective barrier between her and others if she needs him to be."
Meghan is also relying on him for support even more now that they have a baby on the way. "Meghan has her arm across her midsection, perhaps in a protective gesture, as they are walking," Mitchell points out. "They are either holding hands while they walk or Meghan has at least one hand on Harry in every picture of just the two of them, indicating that they are really feeling connected and close during this exciting time."