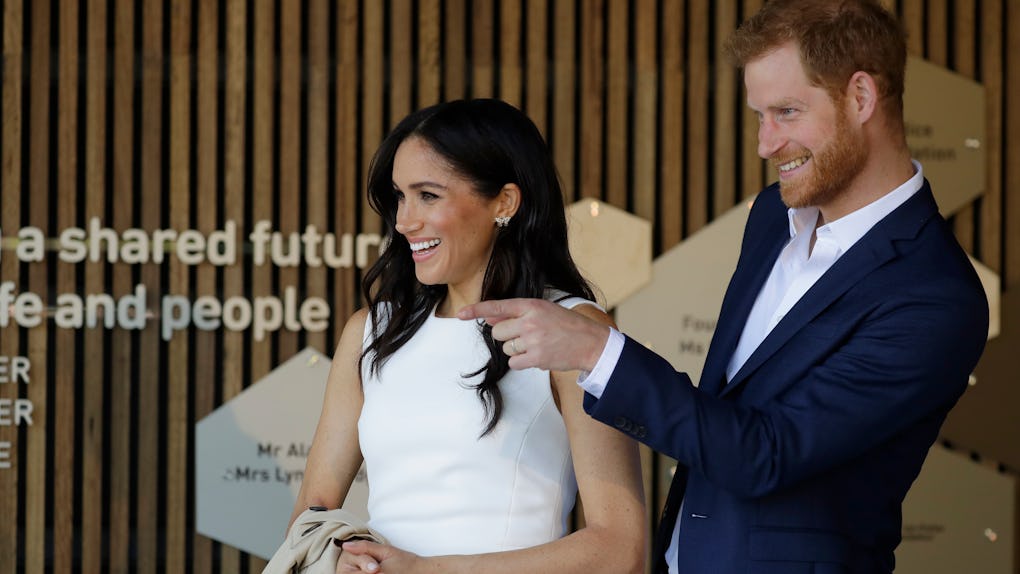 Pool/Getty Images Entertainment/Getty Images
Prince Harry & Meghan Markle's Body Language After Their Pregnancy Announcement Is So Cute
Attention, attention! On the extremely rare chance you haven't already heard, Meghan Markle is pregnant! The news broke on Oct. 15, after Kensington Palace tweeted that the Duke and Duchess of Sussex are expecting their first child, due spring 2019. Prince Harry and Meghan Markle's body language after their pregnancy announcement was all sunshine and rainbows, as it always is with these two. (Thank the heavens because I am here for it.) They touched down in Sydney the day of the announcement to begin their 16-day tour of Australia, New Zealand, Fiji, and Tonga. On their arrival, Harry and Meghan received a toy kangaroo and a pair of tiny Ugg boots from the Governor-General of Australia and his wife. Talk about the perfect, "Congratulations! You're expecting!" present.
If you thought this royal couple couldn't get any more adorable, I'm here to tell you they most certainly can. Prince Harry has always been protective of his beautiful bride, and now that they're expecting, he's even more so. (I know. I didn't think it was possible either.) "Normally, they walk side by side, but in almost [every] photo here, Harry is walking slightly in front of Meghan," body language expert Lisa Mitchell tells Elite Daily. "He's in front of her with his arm overlapping her torso in almost every picture of them walking, showing that he's there to support her and be a protective barrier between her and others if she needs him to be."
Meghan is also relying on him for support even more now that they have a baby on the way. "Meghan has her arm across her midsection, perhaps in a protective gesture, as they are walking," Mitchell points out. "They are either holding hands while they walk or Meghan has at least one hand on Harry in every picture of just the two of them, indicating that they are really feeling connected and close during this exciting time."
1. Here, They're Relaxed
In this picture, Meghan and Harry's bodies are in sync, like they usually are when we see them out and about in public. "He's holding her hand, leading her," body language expert Traci Brown, author of Persuasion Point: Body Language and Speech for Influence, tells Elite Daily. "I believe it was the first time she's been down under, so it's cool how he's taking charge showing her around."
Not only are their bodies matching each other, but Meghan and Harry are also incredibly relaxed based on the way their shoulders are, Patti Wood, body language expert and author of SNAP: Making the Most of First Impressions, Body Language, and Charisma also tells Elite Daily. "They're not tense about the pregnancy, they're just nice and relaxed."
2. Meghan Is Seeking Comfort, And Harry Is, Of Course, Happily Obliging
Not only is Meghan holding Harry's hand, but she's also touching his arm as a way of subconsciously seeking comfort from her husband. "She's reaching for comfort for her and the future baby," Wood says. "It's a guard across the belly, but it's an interesting guard because she's seeking comfort from him and knows he will protect her."
Now, our sweet, sweet Prince Harry isn't going to allow his loved one to seek comfort without letting her know he's there for her. "He, of course, [is] responding to that with his hand across, it's a symbolic reach for that hand. He's saying, 'Of course I'll do that,'" says Wood
3. Harry Is Looking Out For Her
"What's so cute about this pic is that he's watching her feet, making sure she's OK," Brown points out. "He's got her covered." Harry is watching out for her, and she knows it. "She can see that he's doing that, and it makes her really happy," Wood explains. "He's got it. He's taking care of it, and she's comfortable and confident with that."
Imagine walking down those intimidating stairs, in heels, and pregnant. It was probably somewhat of a scary feat for Meghan, but duchess, you had no reason to fret. Your man was there watching your every move, making sure you were OK. And no, it's fine. These aren't tears, my contacts are just bothering me.
4. They're Ready To Be Parents
Look at the way he's looking at her. What is that?! I thought that look only happened in movies, OMG. Now I'm crying for real, you guys.
"I think this one shows how great they're going to be as parents," Brown says. "See how she's making eye contact with the kids? And he's looking her in the eye at a close, intimate distance. You can almost tell that he's thinking what the future will be like!" And the future looks so bright, we're all going to need some shades.
"He wants to watch her interact with them," Wood points out. "The look and the smile on his face, the eye-focus, is right on her, and the smile is really spontaneous and just joyful." She's a little more tense in this picture, but there's no doubt, "she's comfortable in her pregnancy," she says.
5. The Protector In Him Is Shining Through Even More
"She's totally relaxing into him, leaning toward him and crossing her leg his way, but he's a bit more on alert," Brown explains. "See the tension in his hand? It could be the protector in him coming out."
Her stance is very into him, and his is there to support her. "If you look at his leg, it's all the way over to the right," Wood points out. "That right leg is very different than the left leg placement. The right leg is way over to actually create a rest for her hand. [It also says,] 'OK, I'm guarding you.'"
Overall, the body language in their first appearance after Meghan's pregnancy announcement showed that their happiness truly is unwavering, and now that they're expecting, even more so. Meghan and Harry are both incredibly excited for their future. He's ready to continue protecting Meghan and her bun in the oven, which can be seen in his slightly more subdued and serious expressions in these pictures, Mitchell says. "The more serious expression along with the more protective body language cues he's showing are most likely a result of his added concern for Meghan and their baby, and how she is feeling during this trip, and these experiences since announcing her pregnancy." Cue the swooning.