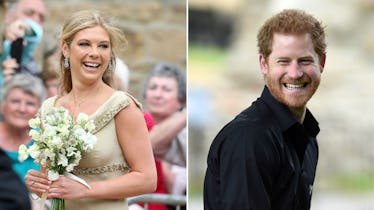 Prince Harry's Ex Called Him Right Before The Royal Wedding & I Don't Know How To Feel
Danny E. Martindale/Stuart C. Wilson/Getty Images Entertainment/Getty Images
Do you want to know why I now fully understand that even those close to the royal throne are only human? Because apparently, not even royalty can escape those sometimes-awkward situations with their former significant others. Don't even act like you don't know what I'm talking about: Running into your ex and his new partner while waiting for the subway. Scrolling through Instagram and seeing that your ex popped the question to the person they dated after you. Or worse, having a chat with your ex right before they're about to walk down the aisle. That last scenario sounds cringe-worthy, but that's what reportedly went down with Prince Harry, Duke of Sussex. Yep, Prince Harry & Chelsy Davy had a phone call right before the royal wedding, and I feel like that's a lot to compute right now. Elite Daily reached out to Kensington Palace about the reports, but did not hear back by the time of publication.
Now, for those of you who are thinking that Prince Harry and Davy had bad blood, think again, because Davy was actually among the guests in attendance at the royal wedding (and so was Prince Harry's other ex-girlfriend, Cressida Bonas). Kudos to Meghan Markle, Duchess of Sussex for being cool about that, BTW.
But according to Vanity Fair, a source told the magazine that just days before Prince Harry and Meghan recited their wedding vows, he and Davy had a "tearful phone" call to give each other some "closure." The source said,
It was their final call, a parting call in which they both acknowledged Harry was moving on. Chelsy was quite emotional about it all, she was in tears and almost didn't go to the wedding.
Look, it must be tough to see your royal ex-boyfriend set to marry someone who's not you. I get that. But Prince Harry's relationship with Davy has been over since 2010, and so I thought that maybe the phone call would have been more of a congratulatory thing, and less about Davy being upset over his upcoming nuptials. But who am I to judge? I never even dated a prince, so chalk one up on Davy's side of the scoreboard there.
Although Davy was invited to the ceremony at St George's Chapel at Windsor Castle, she ultimately wasn't invited to the evening reception at Frogmore House — but the source claims that there were "no hard feelings for the snub." The insider reported:
In the end, she went and promised Harry she wouldn't try and gatecrash the party.
LOL, can you even imagine someone trying to crash the royal wedding?
Ready to party? More like ready to get yourself sent to jail! (Worth the risk, if I'm being honest, though.)
Davy's on-again, off-again relationship with Prince Harry didn't seem like the right fit for her anyway, because she received such an overwhelming amount of attention that she revealed she couldn't handle. In an interview with The Times, she talked about how her relationship with Prince Harry was "uncomfortable" at times because of the media surrounding them. She said,
It was so full-on: crazy and scary and uncomfortable. I found it very difficult when it was bad. I couldn't cope ... I was trying to be a normal kid and it was horrible ... It was nuts, that's also why I wanted to go back to Africa. Now it's calm, it's fine.
Can't say I blame her. Not being able to walk out of the house in sweats? Yeah, you can count me out.
But in a later interview with The Times, Davy revealed that she believed that she and Prince Harry would always remain close. She said, "I think we will always be good friends."
While "good friends" might be a stretch for what I'd call her and Prince Harry, I'd say that having a quick chat with your ex before his wedding does earn you some kind of merit. Jury is still out on Davy's reaction to watching the whole royal wedding unfold, though.