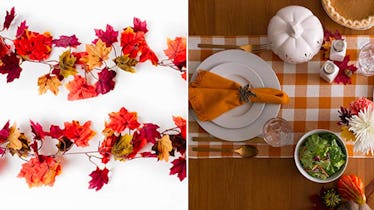 Pretty Fall Decor To Buy On Amazon For The Broke Roomies On A Budget
I don't know about you, but the first sight of autumn foliage gives me fall fever. If you're a festive person like me, you probably look forward to spicing things up at home with new decorations each season. Now is the time to break out the pumpkins, multi-colored leaves, cozy mason jars, and cinnamon-scented candles to give your place that autumn feel. Decor also helps glam up your dorm room or first apartment away from home. It can get a little expensive, so you should check out the pretty fall decor to buy on Amazon.
I love Amazon for how easy it is to stumble upon gems. Instead of going to the store, you literally just click away, and the stuff is sent directly to you. That can also be a bit dangerous if you're living on a budget, so I've gathered the best fall decor for you and your roomie that won't totally break the bank. Out of this list of fall items, you're sure to find something you both love that looks like it came straight from a fall-lover's Pinterest board. Pretty soon, your apartment will be Instagram #goals and looking like a autumn wonderland. It'll be the perfect place to get cozy with a Pumpkin Spice Latte, and wave hello to a brand new fall season.