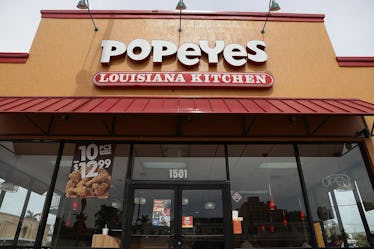 You Can Get $5 Boneless Wings At Popeyes For National Chicken Wing Day, So Eat Up
Joe Raedle/Getty Images News/Getty Images
Although summer is undeniably the best season of them all, it's currently that dreary time of year when there aren't really any holidays to celebrate. The Fourth of July has long passed, and the next major holiday won't be until Labor Day. However, the last weekend in July does happen to be filled to the brim with celebrations, honoring both National Chicken Tenders Day on Friday, July 27, and, more importantly, National Chicken Wing Day on Sunday, July 29. So, if you're looking to throw down in honor of the chicken wing, Popeyes is offering $5 boneless wings for a super limited time.
Just in time for National Chicken Wing Day, it is every chicken lover's single most favorite deal: discounted boneless wings. Louisiana-style fried chicken hub, Popeyes, has brought back their $5 Boneless Wing Bash deal. According to the website, customers will be able to get six all-white meat boneless wings, along with a choice of one side, a buttermilk biscuit, and, most importantly, a dipping sauce of their choice. When all is said and done, everything comes out to a mere $5, and it's basically magic. Yes, you heard that correctly, and it's going to continue for the rest of the freakin' summer at participating locations. Now, grab a fiver and get outta here.
Just look at those crispy, boneless fried chicken wings sitting next to that flaky buttermilk biscuit. Or imagine eating those warm, crunchy fries. My god. This truly is a vision, an ideal meal, and one of the best bargains I've yet to face. If you aren't taking advantage of this straight-up gorgeous deal, you're truly missing out, and I feel sorry for you.
OK, but then look at this beauty smothered in what appears to be buffalo sauce. This truly is a spicy vision in orange, and I really don't think I can take it much longer. That's it, fam — I'm grabbing my purse. It's time for a Popeyes run.
On the other hand, if you happen to be more of a chicken tenders guy or gal, Wendy's is giving away two juicy chicken tenders to each customer for free on Friday, July 27. All you'll have to do is tell the cashier the password, which is available now on Wendy's Twitter account. Spoiler alert: the password is, "winner, winner chicken tender." Once you tell them, you'll be all set. Before you make the journey there, though, make sure to double check that your nearby location is actually participating in the National Chicken Tenders Day deal. If not, hop on over to Popeyes for a $5 meal instead. Bargaining for food is clearly my sport of choice, and I'm here for all of you, providing you with knowledge of free and discounted meals.
Holidays that involve food are always my kind of holiday, but when discounted chicken tenders come into play, there's no stopping me. Between a full meal of chicken, a biscuit, a side, and a dipping sauce, you're going to have one of the greatest nights of your life, and I wish you the best. Happy eating!