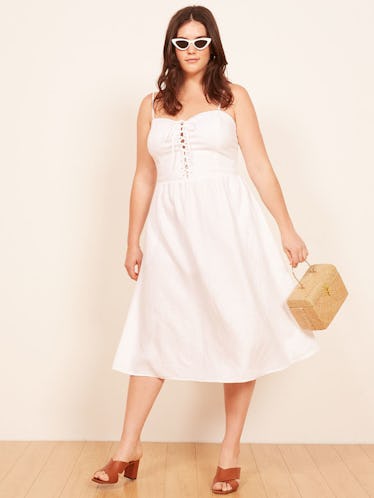 Everyone's Favorite Eco-Friendly Brand Just Dropped Fire Plus-Size Clothing For Spring
The demand for size inclusive clothing lines is nothing new. And although slowly, it's finally beginning to be met thanks to various labels expanding their offerings to be accessible to women of all body types. Just this week, plus size Reformation clothing hit the market, signifying that the retailer is making moves to make their much-loved dresses available to all. But as many customers have pointed out, it took them a long time (too long!) to get here and the limited-edition collection has some major shortcomings.
I have been a mega fan of Reformation for years. I dig the fact that they use sustainable fabrics (think deadstock fabrics and repurposed vintage clothing) almost as much as I dig the designs themselves. They're always trendy, but not overly so, and make cool girl dressing effortless. Throw on any single one of their floral dresses or off-the-shoulder tops and your outfit will immediately jump in chic factor. So when I first heard that they would be expanding to include plus size offerings, I was certainly excited, but also wondered why the heck they had waited until now, 2018 (!?!?!?!?), to do so.
In a statement that kicks off with an apologetic, "Sorry it took us so long," Reformation recognizes that there is no excuse for not having introduced such a line sooner. "Last year we started receiving a lot of comments on social media and requests from customers for more inclusive sizing," the statement reads. "We agree it's unfair that we only offer clothing to a limited size range and have been working on changing this. We're now happy to be launching a collection with more sizes (0-22). We're super sorry we didn't do it sooner."
In this case, the whole better-late-than-never reaction doesn't really work for me. Plus size clothing should be the norm for brands, seeing as over half of American women wear above a size 14. Beyond that, the body positivity movement has been gloriously gaining momentum for years now, so why did it take so long for Reformation, a brand known for being "woke" when it comes to sustainability, to support it through their clothing? Sigh. However, I will say that the new collection does offer fire pieces like only Reformation can, and I hope this move is just the beginning for them in terms of inclusive offerings.
Co-designed by plus size model Ali Tate Cutler, who has worked with the brand in the past, the limited-edition collection features wrap dresses, floral tops, gingham pieces, and a bodysuit — many of Ref's signature staples. I'm partial to the ruffle-strapped Jane top but honestly, it's all ace. On Instagram, Cutler posted a photo of herself in one of the dresses, captioning it, "I'm so excited to share with you that my clothing line designed with @reformation has DROPPED! 🔥 This company has been an all time fave of mine because yes, their styles are freakishly cute, but also because they make their clothes sustainably and transparently." Prices range between $78-$128, which might seem slightly steep at first, but when you take into consideration the fact that they don't follow the traditional fast fashion model, it's actually pretty reasonable.
While it's amazing that more women will now be able to shop Ref's cult favorites, unlike the brand's petites line, the limited-collection is not a new division of the brand. According to Elle, Ref stated in a response that it's the "first step toward fully launching into the category and they will continue to fine tune the fit as they get feedback from their customers."
Hopefully, the limited-edition collection won't sell out anytime soon.