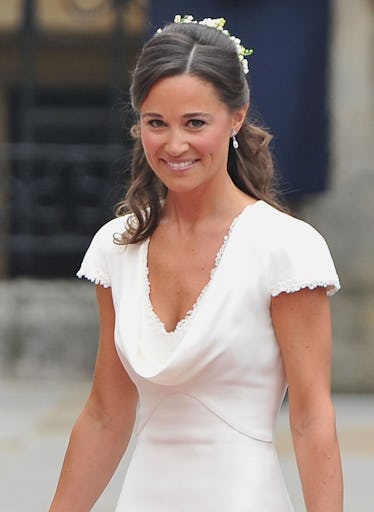 Pippa Middleton Finally Confirmed She's Pregnant, So Get Ready For Even More Royal Babies
Pascal Le Segretain/Getty Images
It hasn't even been a month yet since Prince Harry and Meghan Markle, Duke and Duchess of Sussex, tied the knot, and fans are already speculating about when the royal couple will start to have kiddos. I guess I can't blame them, really — I mean, can you even imagine how adorable one of their tots would be? But while we were all busy focusing on Harry and Meghan, someone else just stole the baby news spotlight. Pippa Middleton confirmed she's pregnant, you guys! So move over Prince Louis of Cambridge, because there's about to be a new youngest royal in town!
There have been rumors that Pippa and husband James Matthews (who happens to be a race car driver and heir to the Scottish title of Laird of Glen Affric — no biggie) are expecting their first child for a while now. Now, the mom-to-be finally decided to confirm the speculation, and she did it in a pretty cool way — by writing about it in a fitness column for the U.K.'s Waitrose magazine. In the piece, titled "Exercising During Pregnancy," she talked about the joys of the first trimester, her changing pregnant body, and the challenges she faced in adjusting her exercise regimen.
"I'm fanatical about sport and have looked at loads of books and websites on exercise during pregnancy but have been disappointed by the limited technical information on what you can and can't do," she wrote. "This being my first pregnancy, I had so many questions I felt were still unanswered. I wanted to know things like, would I strain if I served in tennis, are strokes of swimming safe, can I still do a normal yoga class if I avoided certain positions? Could I still work my abs?"
Pippa went on to explain that because she and Matthews kept their pregnancy on the downlow at the beginning, she couldn't really ask any of her fitness instructors for advice, so she had to create her own workouts. "I felt that I only had very generalized snippets of information," she explained. "So I decided to use my own initiative and adapted my current exercise routine, adjusting my the weight and intensity to what felt right for me. I work out for 45 minutes, three to four times a week depending on my energy levels, but ensured that the routines I did were lighter than usual."
Unlike her big sister Kate — who suffered from hyperemesis gravidarum while pregnant — Pippa also revealed in the column that she was lucky enough not to have any morning sickness during her first trimester. "That meant I was able to carry on as normal and continue most of my sports," she wrote. "I've noticed my body change and weight increase, but through effective exercise and sports, I feel it's being strengthened to support a healthy pregnancy, birth, and recovery. And ensure that post-baby, my old favorite jeans will still fit... eventually!"
That's the dream, right?
Rumors began circulating that Pippa was pregnant back in April 2017, just days before her sister gave birth to her third child, Prince Louis. The Sun reported at the time that Pippa had already told her friends and family the news, adding that Kate "could not have been more delighted" to hear that her younger sister is expecting.
This will be Pippa's first child with Matthews, who she married in a glam private ceremony on May 20, 2017 at St. Mark's Church in Englefield. Can we just take a minute to recall her dress, because it was seriously stunning:
The couple was also in attendance at Meghan and Harry's May 19 nuptials in Windsor, just one day before their own one-year wedding anniversary. Looks like these two have so much to celebrate! Congrats, guys!