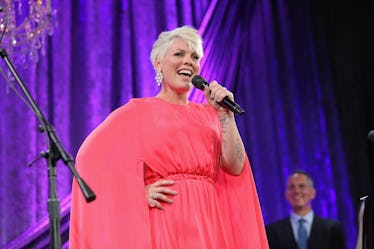 Pink Called Out A Hater For Criticizing Her Super Bowl Performance & The Tweet Is Epic
Chelsea Lauren/Getty Images Entertainment/Getty Images
Super Bowl LII might be one of the most mud-slinging competitions that we've seen in the sporting event's history. The Philadelphia Eagles and New England Patriots both have a strong base of haters in the realm of the NFL, so we expected to see a lot of hate going around of social media. But one person we definitely did not expect to get hate tonight? The singer that performed the National Anthem, who was none other than pop sensation Pink. But you better believe that any hate would not be met without her firing back, because Pink's tweets about her Super Bowl performance spell out that she has zero time for anyone's nonsense.
Pink was slated to perform the national anthem tonight just before the big game on Feb. 4. The singer delivered a stunning rendition of the nation's official song beside a large American flag that was stretched out across the field. And not to mention, hundreds of thousands of screaming football fans. But despite the fact that she gave a spectacular performance tonight, haters clearly are still gonna hate. Pink, however, is above the noise and did not give in when she took a shot back at one particular "critic."
One Twitter user decided to throw shad at Prink's performance of the national anthem at Super Bowl VII.
Cue Pink firing directly back at her "critic" and tweeting an absolutely epic, no-holds-barred response to that user.
To be fair, there is absolutely no reason to attack Pink for her performance. She performed what's probably the most recognizable song in the United States. And she did it with grace and ease, as a seasoned songstress and pop superstar should. What's more? Pink has reportedly been combatting the flu, but still managed to dedicate herself and her talents to this performance of "The Star Spangled Banner" during the biggest sporting event of the year. Honestly I can't do anything when I'm sick. So the fact that Pink went up there in front of thousands of fans and millions of T.V. viewers and performed the way she did is nothing short of astonishing.
To be fair, there was some speculation prior to Pink's National Anthem performance that was creating some controversy ahead of her big night. Namely the question whether or not she would be lip synching the song or not. The question stemmed from her recent Grammy performance all the way back in 2010, where she belted out "Glitter In The Air" in a stunning arial performance. Her showmanship and strength on that night went down in history as one of the top live performances in Grammy history. But many wondered if Pink was not singing live because of the physical nature that her performance required of her.
But she quickly shot down the doubters in a single tweet, when she said, "I hear there's a debate over whether or not I sang live on grammies. I have never lip synched in my entire life. I'm 100% against it."
During tonight's National Anthem performance Pink was not planning on displaying any type of major stunt that she's become known for. Her delivery of the National Anthem was simple and stripped down, so there was absolutely no chance that she'd even think of lip syncing it.
So if there are serious Pink critics out there, I say to each his own. You have the right to not love her music or not love her as a performer in general. But you have to give credit where credit is due and applaud her for a stellar performance tonight. I'd like to see anyone try to belt out the National Anthem while trying to beat the flu — I can imagine that it is definitely no easy feat.