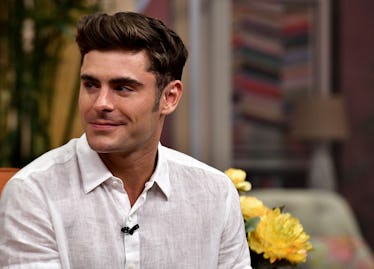 Behind-The-Scenes Pics Of Zac Efron & Lilly Collins In The Ted Bundy Movie Are Epic
Gustavo Caballero/Getty Images Entertainment/Getty Images
It's always a jolt to the system when your favorite childhoood stars are suddenly adults tackling extreme film roles that certainly don't equate to their baby-faced selves on those posters in your tween bedroom. I'm still adjusting to the news of Zac Efron playing serial killer Ted Bundy in the upcoming thriller Extremely Wicked, Shockingly Evil and Vile, but he and costar Lily Collins seem all in. Photos of Zac Efron and Lily Collins, who plays Bundy's longtime girlfriend Elizabeth Kloepfer, together on the movie set have been released, and they just may be enough to convince me to give this film a chance.
Both Efron and Collins recently shared the first sneak peeks of their characters, but these photos hinted at the sinister vibes of the real couple's story. Efron's photo was a distant shot of him reenacting Bundy's mugshot, while Collins' individual snapshot just emphasized that the film ought to be a tutorial in prime '70s fashion. I mean, This Is Us hasn't flashed back to the 1970s since telling us how Jack and Rebecca met, so we could always use more cinematic insight into that.
In their latest update, both actors posted an in-character shot of themselves from behind, captioning their individual posts as, "When Ted met Liz" and "When Liz met Ted."
Apart from the concerning fact that Efron and Collins are trying to bill this in the same vein as When Harry Met Sally, the photo does a great job of portraying Kloepfer's initial rose-tinted view of Bundy. The couple first met in 1969 before Bundy killed his first of at least 30 victims in the 1970s. Kloepfer was reportedly unaware of Bundy's crimes for the majority of their relationship, and Bundy purposely stayed away from her "when he felt the power of his sickness building in him." However, Kloepfer eventually caught on and was a major contributor in helping authorities finally convict Bundy.
Extremely Wicked, Shockingly Evil and Vile will take place from the POV of Kloepfer, which explains the romantic-seeming shot of the characters. Despite how intense the film's content may be, Efron and Collins have also shared behind-the-scenes photos with director Joe Berlinger that suggest they've maintained a healthy personal distance between themselves and their characters.
This week, The Big Bang Theory's Jim Parsons was announced as part of the film, playing lead prosecutor Larry Simpson in Bundy's 1979 murder trial. John Malkovich will appear as the trial's judge Edward Cowart, while Kaya Scodelario is set to portray Bundy's eventual ex-wife Carole Ann Boone. Something tells me that Parsons won't get away with saying "Bazinga!" when his character triumphs over Bundy in court.
Bundy married Boone in 1979, and while it's unclear if the film will cover Bundy's life right up to his 1989 execution, perhaps we can expect to see a strange, bonding dynamic between Scodelario's and Collins' characters. Utilizing a bizarre Florida law during one of his murder trials, Bundy proposed to Boone following her testimonies in favor of him. In Florida, if someone declares a marriage in a judge's presence, the union is totally valid. The unique proposal was even caught on camera, so now there's really no excuse for it not to make it into the film, particularly from Kloepfer's perspective.
Extremely Wicked, Shockingly Evil and Vile has reportedly been filming in Kentucky recently. A release date has yet to be announced, but following those additional cast announcements, I'm only more convinced it will hit theaters during the 2018-2019 awards season. Here's to hopefully seeing more character shots of Efron getting his "head in the game" to capture Bundy (too soon? Sorry).