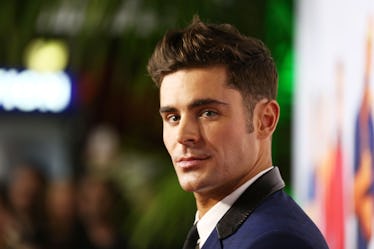 These Photos Of Zac Efron As A Serial Killer Are So Creepy & I'm Crying
Brendon Thorne/Getty Images Entertainment/Getty Images
Zac Efron has been Hollywood's resident hot young thing since his baby face and Justin Bieber-esque hair debuted over a decade ago in High School Musical. Now 30 years old (!), the actor seems to have taken this milestone as motivation to diversify his career. While he stuck to familiarity in the recent musical movie hit The Greatest Showman, fans will have to get used to a much different look from him soon. Photos of Zac Efron as Ted Bundy in an upcoming biopic have been released, and East High's star basketball player is definitely no longer.
Playing the serial killer in the film Extremely Wicked, Shockingly Evil and Vile, Efron shared a photo of himself in character on Instagram and Twitter this week. The eerie black-and-white shot is taken from the perspective of someone behind the movie cameras, showing Efron looking to the side while lit by a spotlight. The setup seems to resemble Bundy's own mugshot. For a caption, Efron simply wrote, "Meet Ted." Compared to the workout photos and Greatest Showman pics shattered through the rest of his social media, the character shot is a total change of aesthetic.
Production of the film is set to officially begin this week, so it looks like Efron has been spending the past few days taking these production photos and helping the creative team put last-minute touches on costumes.
While the angle of this behind-the-scenes photo limits in-depth comparison to the actual Bundy, Twitter users have gotten busy comparing general photos of Efron to Bundy, who was also known for his charming personality and looks.
Bundy became one of the twentieth century's most notorious killers after murdering at least 30 women between 1973 and 1978. Although he was arrested and imprisoned on murder charges, he escaped from jail twice and eventually died in the electric chair in 1989. Depending on how the film is promoted, this role could easily turn into Oscar bait, which would be a major career shift for Efron. For now, the Bundy photo is making fans equally excited and uncomfortable. I mean, same.
As one Twitter user said, playing Bundy has the power to alienate Efron from certain fans. Using NCIS star Mark Harmon's portrayal of Bundy in the TV movie The Deliberate Stranger as an example, the fan wrote that it "took me years" to separate the actor from the character. So many of Efron's fans have such a dedicated connection to him that his new movie could certainly mess with viewers' perspectives of him.
Producer Michael Costigan is on board with Efron's involvement, saying he's "perfect casting, as he can play both the depth and the charm that this guy had in equal measures, and which allowed him in such a terrifying way." Costigan also called the film "a psychological thriller."
Extremely Wicked, Shockingly Evil and Vile will actually take place from the POV of Bundy's girlfriend Elizabeth Kloepfer, who was unaware of Bundy's crimes for much of their relationship. Kloepfer reportedly stayed safe from Bundy's harm because he kept his distance from her "when he felt the power of his sickness building in him," as he told her shortly before his death.
Lily Collins, who was recently announced as part of a BBC adaptation of Les Miserables, will appear as Kloepfer, recently sharing her own photo of herself in costume. She also teased the start of filming in an earlier post that suggested she was working with Efron at the time.
Extremely Wicked, Shockingly Evil and Vile will be directed by Joe Berlinger, who has a lengthy history of working on documentaries. His exposure to fact-driven work will definitely benefit the accuracy of this film. A release date has yet to be announced, but I'll bet that we'll see the film hit theaters by next award season.