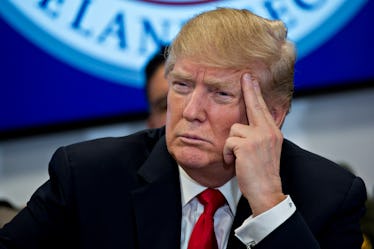 Trump Threw His Annual Super Bowl Watch Party & Don't Worry, You Won't Have FOMO
Pool/Getty Images News/Getty Images
As the 2018 Super Bowl approaches, it's time to jump on those party preparations. From junk food to drinking games, the Super Bowl isn't just for football fans. Even the president is in on the festivities, and his 2017 Super Bowl party pics prove it. So how did he trump last year's party this year? Check out these photos of Trump's 2018 Super Bowl party and see for yourself.
Donald Trump and first lady Melania decided to keep to tradition and host their 2018 Super Bowl watch party in Palm Beach, FL, at the Trump International Golf Course once again. Spoiler alert: So far, there have been Florida cheerleaders, awkward standing, and low-key tacky NFL table decorations. To welcome the president and first lady's arrival, the Florida Atlantic University band played Earth Wind and Fire's "Boogie Wonderland" while the school's cheerleaders performed a routine. The presidential duo then sat down for a dinner surrounded by friends and colleagues. And lucky for us, a few pictures from the party have begun to surface. And it looks, well, yeah. It looks exactly how you'd expect Trump's Super Bowl watch party to look. Have to say, it doesn't look like this year's football soirée is much more exciting than last year's.
Then, again, Trump International Golf Course is pretty nice as a setting, but still, not as exciting as all your closest friends stuffing their faces with nachos and doing keg stands, you know?
Last year, on Feb. 3, 2017, Trump took part in the Super Bowl festivities in West Palm Beach, Florida, once again, at his very own Trump International Golf Club. In classic Trump family fashion, it was quite the fancy event. From The Palm Beach Central High School Band welcoming his arrival, to an actual velvet rope blocking him off from other partygoers, he truly gave himself the real presidential treatment. As for the food, Trump reportedly decided to opt out of his favorite fast food dishes in favor of some sweeter delights. This includes red and blue cupcakes as a nod to the Falcons and Patriots, brownies, black and white cookies, and fro-yo.
This year, on Feb. 1, 2018, a White House official reportedly told CNN that Trump wouldn't be taking part in the traditional presidential interview that occurs during the Super Bowl. The tradition began during the George W. Bush administration and continued throughout Barack Obama's two terms. Truth be told, the announcement isn't really that surprising for a few reasons.
For one, the football game is aired on NBC, a channel that Trump has historically voiced his disapproval of. According to The Chicago Tribune, when the football game was sponsored on Fox last year, Trump was all too willing to sit down with a prerecorded interview with Bill O'Reilly.
For two, it's not like he is the biggest fan of the NFL at the moment. While the NFL protests have died down over the past few weeks, Trump openly voiced his opposition of players taking a knee during the National Anthem. On Sep. 22, 2017 Trump spoke at a rally in Huntsville, AL, and expressed his views on the protests.
He said,
Wouldn't you love to see one of these NFL owners, when somebody disrespects our flag, to say, "Get that son of a bitch off the field right now. Out. He's fired. He's fired!" You know, some owner is going to do that. He's going to say, "That guy that disrespects our flag, he's fired." And that owner, they don't know it. They don't know it. They'll be the most popular person, for a week. They'll be the most popular person in this country.
Despite his bleak views on the NFL, Trump is still a fan of the New England Patriots, who will be competing in this year's Super Bowl. He's been open about his friendship with team owner Robert Kraft and quarterback Tom Brady. According to The Chicago Tribune, Trump claimed he finds the current era of football "boring" and "soft," but despite all of that, he's still a big Brady fan.
He said,
It's boring, although I love Tom Brady. I gotta tell you. I do love Tom. He's a great guy. But it's different. But it's become soft and our country has become soft.
The love might not be reciprocated, however, since Brady chose not to visit the White House alongside his team last year after their Super Bowl victory.
Trump's sudden change in opinion about the sport can be viewed as kind of ironic, since he actually bought a football team in 1983. This was early in Trump's career as a business mogul when he became the proud owner of the New Jersey Generals for an estimated $9 million, according to The Washington Post. While Trump helped the team become one of the strongest in the United States Football League within its first year, two years later, the team called it quits.
Charles Steiner, a sports broadcaster who observed the Generals, talked to The Washington Post about Trump's influence on the team and, ultimately, its demise.
He said,
He was the air pump into the tire. He gave the league the air it needed, elevated it to another level, pumped it up real good, and kept pumping till it exploded.
Could this be a metaphor? Hope not.
So while Trump might not be gracing the U.S. Bank Stadium this year, it's clear he's partying just like the rest of us.