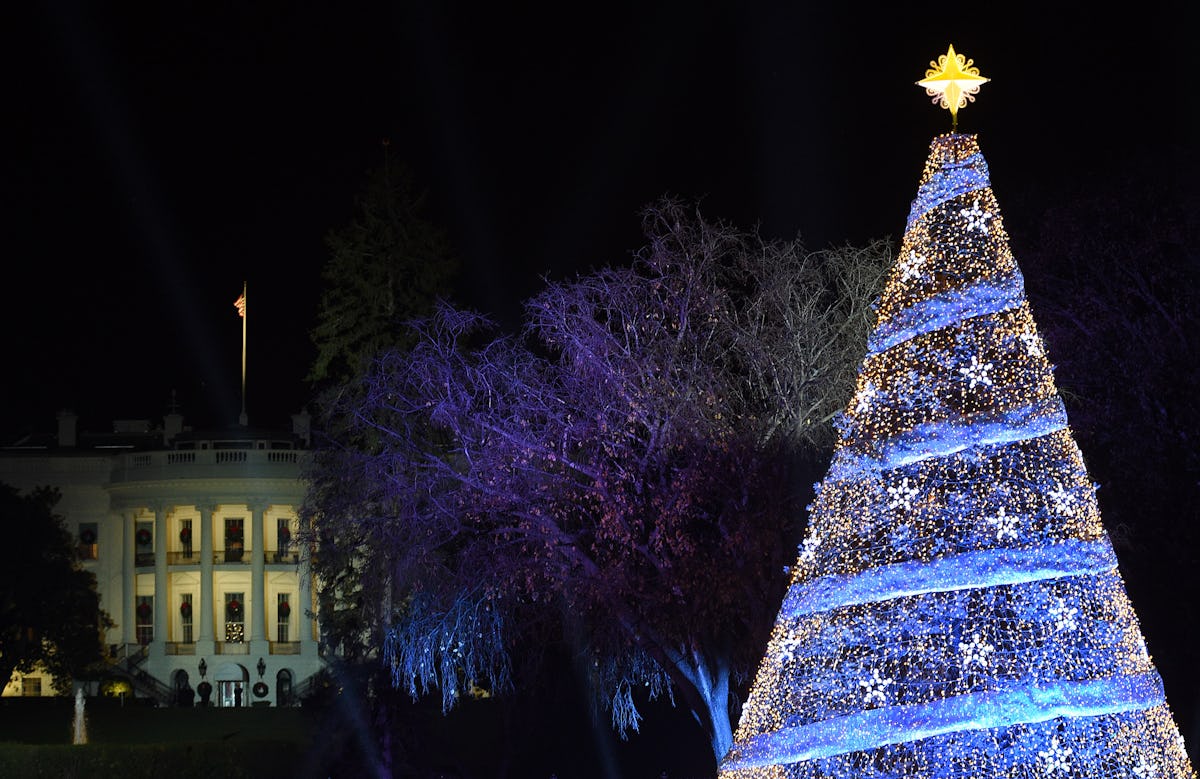 Trump's First National Christmas Tree Is Honestly Pretty Majestic, & The Photos Prove It
Astrid Riecken/Getty Images News/Getty Images
The Trump administration might not be doing a lot of things to people's liking, but they are managing to do the holidays fairly decently. First, Melania Trump helped pull together some truly spectacular decorations at the White House. Then, the administration unveiled a pretty stunning National Christmas tree that looked perfect and twinkly against the night sky. Photos of Trump's National Christmas tree will 100% get you in the holiday spirit. You know, if you're able to completely ignore the current political climate.
On Nov. 30, Trump and his family gathered on the White House lawn for the traditional lighting of the National Christmas tree.
"We want to wish everybody a Merry Christmas, a Happy New Year, have unbelievable holidays and we are now going to light a very beautiful tree, and I'll ask our first lady to get ready and maybe we'll do a countdown from 10," the president told the crowd.
Melania hit the button that lights up the ginormous Colorado Blue Spruce tree and Trump told the story of Jesus Christ being born. Other highlights included Melania looking bored in the background and the Beach Boys performing. Meanwhile, the president was loving the whole thing and said,
Today is a day that I've been looking very much forward to all year long. It's one that we've heard and we speak about and we dream about and now, as the president of the United States, it's my tremendous honor to now wish America and the world a very Merry Christmas.
OK, so the best part of all this? The tree was legit majestic.
Pretty amazing, huh? Unfortunately, the gloriousness of the tree itself wasn't quite enough to grab the interest of the general public. The ceremony was looking pretty, pretty empty. I'm talking Trump's inauguration crowd empty.
"Unless you want to make @realDonaldTrump very unhappy, DO NOT retweet these photos showing how many more people showed up for @BarackObama's Christmas tree lighting ceremony," Obama appointee Andrew Weinstein joked on Twitter.
Some (pretty bleak) pictures for reference:
Putting all politics and crowd size stats aside, the National Christmas tree has a pretty amazing history to it.
In 1923, a 48-feet tall balsam fir tree was delivered onto the White House lawn, decorated in red, white, and green ornaments. It started out mostly as a holiday photo op for President Coolidge, David Greenberg, author of Calvin Coolidge, told TIME Magazine. He explained,
The 1920s were a decade of advertising, copywriters, punchy prose, tabloid journalism with splashier photography displays, so we're getting this visual culture, and both [Presidents] Harding and Coolidge recognized the publicity value of a photo op. So it's easy to imagine the White House tree lighting ceremony was just sort of part of this proliferation of public events at which you get a nice photo in the newspaper for this kind of easy stunt.
Later, the lighting took on a far more significant meaning. During World War II, President Harry Truman used the tree as a symbol of hope.
"This is the Christmas that a war-weary world has prayed for through long and awful years," he said, addressing his crowd on the White House lawn. "With peace come joy and gladness. The gloom of the war years fades as once more we light the National Community Christmas Tree."
The ceremony continued on as a symbol of hope and, during his last Christmas lighting in 2016, Obama gave a shout out to the "big-hearted and hopeful and resilient people who look out for each other and who have each other's backs." He also called upon Americans "to care for the sick, and the hungry, and the downtrodden."
Ah, and that's what the holidays are all about. Reaching out, caring about people, being generous, and admiring some truly glorious Christmas trees.