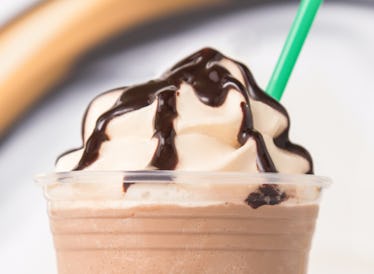 Starbucks' New Triple Mocha Frappuccino Looks Delicious, So Get It For The 'Gram
Starbucks
I'm gonna let you in on a little secret about my life: I'm a total sucker for food pictures. There, I said it. If you looked through the photos on my computer and phone, or if you took a look at what kinds of Instagram accounts I follow, you'd be shocked to know that it solely consists of photogenic food and drinks. It's kind of embarrassing, I know — but it's true. If you're into #foodporn as well, you should probably check out photos of Starbucks' Triple Mocha Frappuccino. If you haven't already seen them, then seriously, what are you doing with your life?
The Triple Mocha Frappuccino provides for an entirely different kind of #foodporn experience. While some food pics look way better than they taste (for example, 2017's avocado bun craze, or when everyone ate activated charcoal), the Triple Mocha tastes just as good as it looks. Don't get me wrong: It would undoubtedly beat me out for those Instagram likes any day of the week — but it has such a creamy texture and rich flavor that it totally lives up to the hype. Here are photos of the Triple Mocha Frappuccino below, in case you haven't already seen them. Warning: This may inspire you to drop everything and run to your nearest Starbucks store.
The taste of Starbucks' Triple Mocha Frappuccino is almost too good to put into words, but don't worry — I've got you covered. It tastes like a super creamy version of the Mocha Frappuccino. However, the Mocha Frappuccino has additional layers of dark mocha frappuccino, dark mocha sauce, as well as two layers of Starbucks' new Sweet Cold Brew Whipped Cream. Don't worry, though: The Mocha and Triple Mocha Frappuccinos will coexist on the permanent Starbucks menu in harmony. I know for a fact that all of my summer mornings will consist of the Triple Mocha Frappuccino, and I'm not sorry about it.
The Triple Mocha will be released to Starbucks menus throughout the United States and Canada on May 1, so May Day is coming in hot. That isn't the only creation to arrive with those adorable May flavors, though. The Ultra Caramel Frappuccino is also coming to town, and it sounds almost as amazing as the Triple Mocha. This, too, is a new twist on an old classic — the Caramel Frappuccino. In all honesty, it's my dream come true. While it tastes quite similar to the original Caramel Frappuccino, it manages to have an even fuller taste of caramel, coffee, and most importantly, that new Sweet Cold Brew Whipped Cream. I seriously can't wait any longer to sip either of these.
After giving the new Frappuccinos a shot, you may be in the mood for a little extra caffeine, and the Grande Iced Blonde Quad Caffe will definitely do the trick. After its release in honor of daylight savings on March 11, it's remained one of my favorite springtime drinks. It consists of multiple Blonde Espresso shots mixed with water that creates a thick layer of cream at the top, which is cooled with a handful of ice. It's the perfect pick-me-up, and it's even a little bit sweet. If you haven't tried it, it's positively delightful.
If you were searching for your fix of #foodporn today, then you're welcome. This had to have done the trick. The Triple Mocha Frappuccino is not only drop dead gorgeous, it's also tasty AF. It's hands down everything that anyone could possibly want in a Starbucks drink. What I've come to learn is that looking at pictures of food is mighty fun, but getting to devour the food (or drinks) is even better.