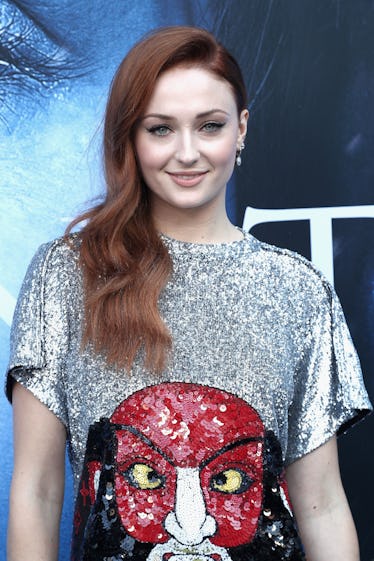 Sophie Turner Just Dyed Her Hair Khaleesi Blonde & It's Too Cool To Handle
Frederick M. Brown/Getty Images Entertainment/Getty Images
Well, Game of Thrones fans, the best show on earth just wrapped filming its final episode. Don't worry, I'll just be here sobbing. To mark the momentous occasion, one of its cast members just got a beautiful new crop that just might remind you of Khaleesi. Photos of Sophie Turner's hair prove that the rightful ruler of the Seven Kingdoms will live on by means of fantastically silver-tinted bleached blond hair.
If you follow Turner on Instagram (which you definitely should because her style rules and she's engaged to Joe Jonas so... yeah), then you already know that the actress has fluctuated between her Sansa red hue and a golden platinum blonde regularly in the past. It's likely that she returned to her preferred blonde between seasons and had her signature red locks while the show was being filmed. Does the show's ending mean we've seen the last of her fiery locks? Say it ain't so! I actually love Turner with red hair and would totally rock the hue 24/7 if I were her (anyone that looks that good with a reddish hue should absolutely go for it) but that's not to say she doesn't also look ace as a blonde.
Around a year ago Turner became an ambassador for Wella Hair, a line of professional salon hair products. An appropriate partnership, no? And just yesterday, Turner revealed her biggest collaborative effort with them yet: a new choppy lob in an icy blonde hue, done with the help of Wella Hair products. She captioned an Instagram post featuring a photo of her new style, "New beginnings, new #WellaHair! ♥️ Thank you @sonyadove and @cwoodhair for transforming my look with @wellahairusa. #AskForWella."
The cut reaches just past her shoulders and features shaggy ends and was styled with a side part and silky loose waves in the photo. Color-wise, it's not that far off from Khaleesi's shockingly blonde hue, though it's slightly ashier.
As Turner mentioned in her post, the cut was executed by celebrity hair stylist Christian Wood, who is a Wella Professionals Celebrity Ambassador. He's worked with Rosie Huntington Whitely, Emily Ratajkowski, Lily Aldridge and more, so you know he's a total expert. Wood captioned his post of Turner's new look, "💥💥💥 Here she is my girl @sophiet sporting her new Lob and Icy blonde color by @sonyadove for @wellahairusa#AskForWella#IfYouKnewWhatIKnow 🌊."
Um, excuse me real quick—is that last hashtag a reference to some insider Game of Thrones knowledge Woods might've gained during the styling session? What could that little wave emoji possibly be detailing? And why didn't I go into celebrity hairstyling? Now that I think of it, that's probably one of the best insider professions out there.
Anyways, now that I'm done going over all the possible water-related GOT scenarios in my head, back to Turner's hair. If you're thinking fo going for a similar hue, here's what the process will likely entail. No matter if you're a natural blonde or not, you'll likely need to have your entire head bleached in order for a stylist to then be able to tone the platinum color to the proper ashy shade. InStyle interviewed celebrity hair colorist Sharon Dorram, who works with Kade Hudson, on achieving such a hue. The mag wrote "If you have darker hair and getting that ashy hue has proved difficult, you're not alone. Dorram says that generally naturally darker hair will lift with more of a warmer tone." However, if you're a natural blonde, it will be a bit easier to achieve. Dorram told InStyle, "Almost all natural blondes will lift easily to a wheat-toned 'tow head' blonde. It's only a strawberry blonde that may lift with warm undertones."
"To create an icy blonde you need a highlight tint with super ashy undertones," Doram continues. "I will sometimes use a pure ash-based toner on the roots if the base looks too golden before I highlight."
Et voila! Khaleesi blonde at its finest. Whether or not you leave it up to the men and women of Westeros, Dragonstone, and beyond to rock this look is up to you.