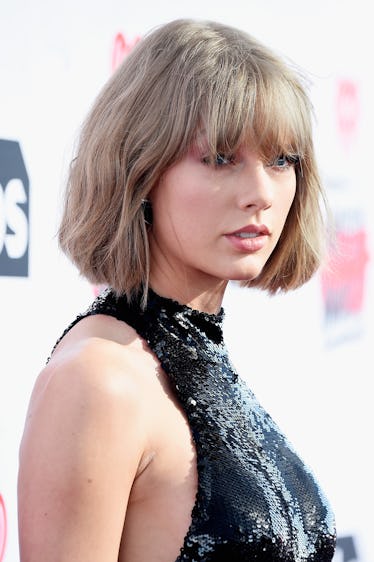 Taylor Swift Apparently Looks Just Like Ryan Seacrest's Mom & Twitter Can't Deal
Frazer Harrison/Getty Images Entertainment/Getty Images
People are saying Taylor Swift has a new dopplegänger, and it's not at all who you would expect. No, she's not some Instagram model or rising starlet — she's Ryan Seacrest's mom. It looks like some sort of Switched At Birth plot line is happening because photos of Ryan Seacrest's mom, Connie Seacrest, basically prove that Taylor Swift is her long-lost daughter.
The revelation was brought to Ryan's attention by a fan of Live With Kelly and Ryan. According to E! News, on Nov. 13, Ryan invited his mother on the show for a cooking segment. After the show aired, people started noticing the strong resemblance. One detail: I feel the likeness between the two is the strongest during Swift's 2015 bangs era.
Ryan said one fan wrote in and suggested, "You should do a side-by-side shot of Ryan's mom and Taylor Swift, she could be Taylor Swift's mother." The audience went nuts over the comparison, and even Kelly exclaimed that she saw the resemblance. Also, Ryan Seacrest's mom, Connie, is cute AF.
After the side-by-side, the show even swapped out Swift's face for Connie's and it was hilarious. Ryan cracked up and said, "I apologize, Taylor. I'm sorry, Taylor. What an honor mother." TBH, more like what an honor to Swift. I would love to look like the mother who created literally the most successful man in show business. Keep up the good work, Connie. #JusticeForConnie
As expected, Twitter cannot deal.
Even though I'm, like, almost certain Ryan Seacrest and Taylor Swift don't actually have the same mother — one thing is for sure, people can't stop talking about Swifty. On Nov. 13, Swift did a surprise performance on The Tonight Show Starring Jimmy Fallon.
This episode was extremely momentous because it was Fallon's first night back following the death of his mother, Gloria Fallon, on Nov. 4. Fallon paid tribute to his mother at the beginning of the show and told the audience some memories he had with his mom that resurfaced on the day she died. Fallon said,
When we were little, my mom would take us to the store — me and my sister — and we would hold hands. And she would squeeze my hand three times and say, 'I love you.' And I would squeeze back, 'I love you too.' And last week, I was in the hospital, and I just grabbed her hand and I squeezed, 'I love you.' I just knew we were in trouble.
It was so emotional. Later in the show, Swift performed the last track on her Reputation album, "New Year's Day." In the song, Swift sings the line, "You squeeze my hand three times in the back of the taxi." Considering Fallon's story about his mom squeezing his hand three times, the entire crew broke down in tears at this moment.
Swift received rave reviews from fans for the seriously emotional performance.
Swift released Reputation on Nov. 10. In just a few short days, she has delivered a bad*ss performance on Saturday Night Live and an absolute heartfelt tribute on The Tonight Show Starring Jimmy Fallon. Swift also has a tour coming up — SHE'S LITERALLY UNSTOPPABLE. Knowing Swift, I'm sure she still has a few more surprises up her sleeve.
If you haven't listened to Reputation yet, I highly recommend. There's a little something for everyone on the album, and the lyrics are so personal to Swift. All hail the kween.
Check out the entire Gen Why series and other videos on Facebook and the Bustle app across Apple TV, Roku, and Amazon Fire TV.