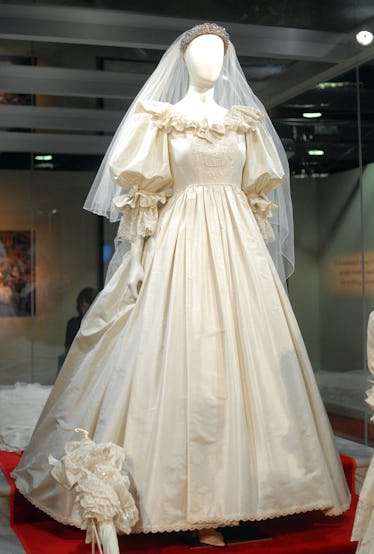 Here Are The Tiny Details You Didn't Notice On Princess Diana's Wedding Dress
William Thomas Cain/Getty Images Entertainment/Getty Images
Wedding season is officially upon us, and even though I'm super single, I love talking about weddings. Unfortunately, my ticket to the Royal Wedding didn't make it through customs in enough time, so between drying my tears, I decided to research photos of Princess Diana's wedding dress. She was the OG of wedding flair, after all!
There's nothing I love more than the moments leading up to a big outfit reveal. I've spent weeks speculating over color schemes, designers, fit, and tailoring, so it's no surprise that I'm bubbling over with excitement about seeing Meghan Markle's dress. I'm all for celebrating love and happiness, but the big white dress is definitely in the top five most important things about a wedding. Or at least my future wedding. That's why I had to do some digging to learn more about Princess Diana's dress.
I grew up seeing photos of Princess Diana looking equal parts regal, elegant, and demure, but I never investigated further. It's a total pinch me moment that way back, writers like myself patiently waited until the day of to find out all of the details. In the day of social media, one could expect that people all over the world will find out the information with a leaked photo.
Reporters back then actually didn't get the scoop until the moment that Princess Diana stepped out of Clarence House. It was then, and only then, that they were able to open sealed envelopes that shared design and details of the Princess's wedding dress.
Diana opted for a fairytale gown that was equal parts over-the-top and fit for a princess. The fairytale gown was designed by husband and wife duo David and Elizabeth Emanuel. Ivory silk taffeta met lace in the confection, which also boasted intricate embroidery. Among the opulence were 10,000 tiny mother-of-pearl sequins (embroidered by hand, of course), pearls, and a 25-foot-long train.
As for the silhouette, the dress had a fitted, boned bodice and a curved neckline that met in a wide V with a taffeta bow at the center. The multilayered tulle petticoat gave the dress a full, dramatic skirt. Whereas Kate Middleton's sleeves were full length, Princess Diana went with full, three quarter length sleeves that were gathered into taffeta frills at the elbows. The sleeves had standout embroidered lace flounces underneath to finish off the sleeves. So classic.
To round off the look, Princess Diana wore a crown from her family's collection, a small blue bow a tiny 18-carat gold studded horseshoe with white diamonds sewn into the waistband of her dress. Her low heeled slippers were made out of ivory silk material and topstitched with pearls and sequins. The suede soles were edged in gold.
According to a copy of the Press-Courier, Women's Wear Daily reported that the Emmanuels created a backup dress just in case(!) news was leaked to the press about what Princess Di was wearing. Imagine how important you'd feel if you had a backup outfit if the original one was no longer a surprise to the world!
The backup gown was a somewhat similar design to the original dress. It was made out of ivory silk taffeta and had ruffles around the neck. The backup dress just didn't have the signature antique lace, mother-of-pearl sequins and pearls, or the 25-foot train. It also was never finished.
According to People, when David first showed Princess Diana a sketch of the dress, he immediately had to rip it up so the sketch wouldn't leak. Elizabeth stated that Diana didn't even try on the dress. She had to be sewn into her dress the day of the wedding because she lost a lot of weight before the wedding. Allegedly, the original waist was 26 to 27 inches, but they had to alter the dress to fit Princess Diana's 23 inch waist frame.
At the time we wanted to make absolutely sure that the dress was a surprise. We didn't try it on Diana. We never even discussed it. We wanted to make sure that we had something there; it was for our own peace of mind, really."
As for royal-in-waiting Markle, I can't see that being the case. In fact, I bet she's had a dozen dress fittings by now, and I can't wait for her to stun the world with the final look.