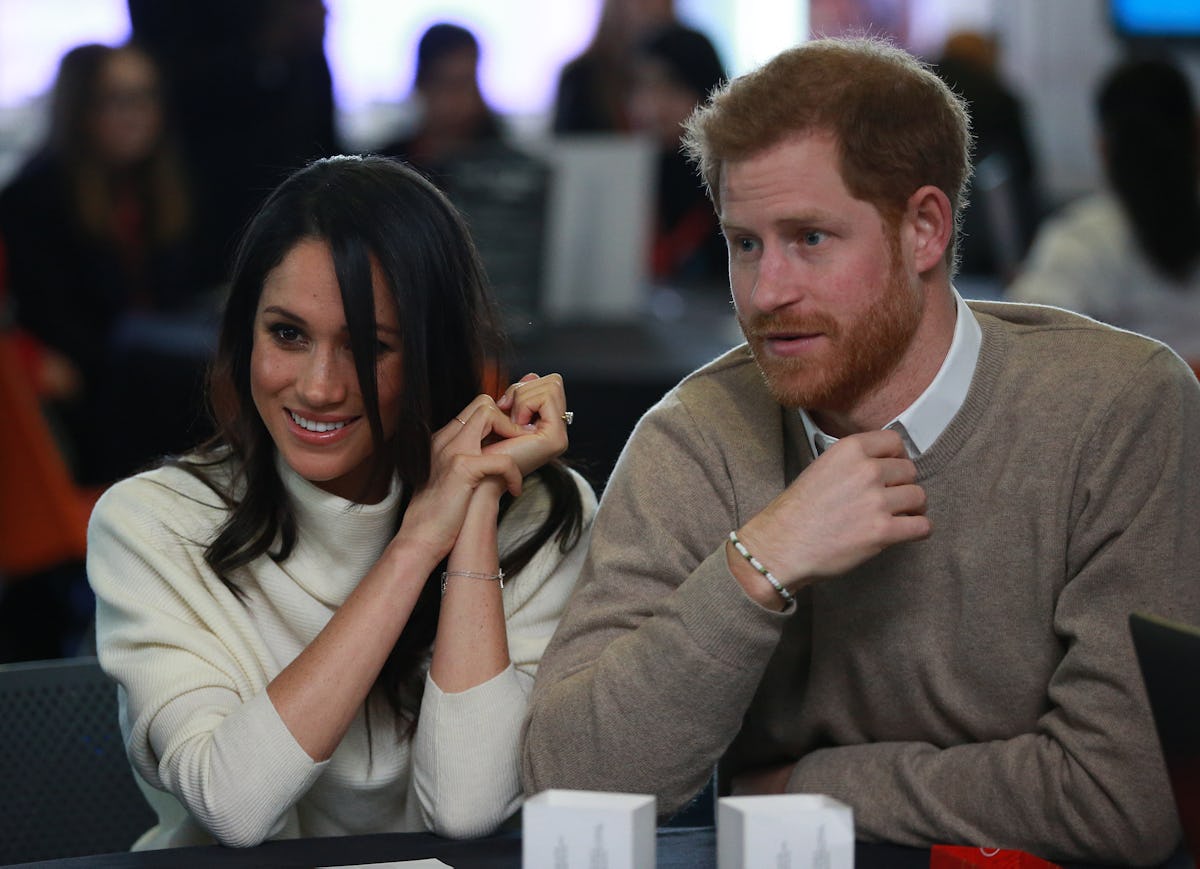 These Pics Of Meghan Markle & Prince Harry On International Women's Day Are So Sweet
WPA Pool/Getty Images Entertainment/Getty Images
Who run the world? GIRLS, obviously. And on International Women's Day, I think I should let it be known that a lady can be whatever she chooses to be. Apparently, some royal family members feel the exact same way (hell yeah!) and celebrated the holiday by spreading some #girlpower. If you think I'm talking about the soon-to-be royal newlyweds, you're absolutely right, and these photos of Meghan Markle & Prince Harry on International Women's Day will make you beyond happy.
The couple traveled to Birmingham, England to meet with locals, and Prince Harry ended up speaking to 10-year-old Sophia Richards who aspired to be an actress, much like his soon-to-be wife, Meghan Markle.
According to People, Prince Harry then took Richards to meet Markle. "Meghan told me that I can achieve whatever I want to achieve. And Meghan said she would like to see me on TV when I become an actress," Richards said. "It was a dream come true. I will never forget this day." Markle proceeded to hug Richards before Prince Harry led her back to her schoolmates.
Why are my eyes leaking? Why is this so damn pure? Why are Meghan Markle and Prince Harry the actual best?
If you thought the video above was precious, just look at these photos from Meghan and Harry's visit.
Look at how invested Meghan is in meeting all these little children!
It's almost as if she has all the time in the world to speak with every single one of them.
Can you even imagine getting hugged by royalty?
I'd never take that outfit off, TBH.
Of course, we can't forget about Prince Harry. Look at how he's interacting with all these cute kids!
Can we just look at how happy they are together?
Cuteness overload right there.
This isn't the first time Markle has been the voice of empowerment for women, either. During International Women's Day back in 2015, Markle spoke at a UN Women's conference in New York. She said,
I am proud to be a woman and a feminist, and this evening I am extremely proud to stand before you on this significant day, which serves as a reminder to all of us of how far we've come, but also amid celebration a reminder of the road ahead.
She continued, saying,
It is said that girls with dreams become women with vision. May we empower each other to carry out such vision — because it isn't enough to simply talk about equality. One must believe it. And it isn't enough to simply believe in it. One must work at it. Let us work at it. Together. Starting now.
YAS, queen!
And Prince Harry is right behind his lady: On Wednesday, March 7, Prince Harry spoke to young female students about the possibility of having more women in engineering during his visit to Silverstone race car track.
Speaking to girls who were interested in becoming engineers, Harry said, "It's a great choice, we want to get away from [the idea] that it's all men in overalls and oily rags."
YAS, king!
Seriously, I am loving just how much both Meghan Markle and Prince Harry encourage young women to strive to be whatever they want to be.
I don't know about you, but I can't wait for Meghan Markle and Prince Harry to tie the know on May 19 at the Windsor Castle. And, in true feminist form, Meghan Markle has been breaking royal tradition left and right, meaning that no matter what family she's marrying into, she won't ever stop being her perfect, badass self.
A big thanks to the royal couple for shining a light on such an important day, and for showing girls around the world that their options are truly endless.