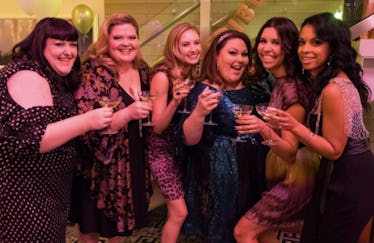 Kate's Bachelorette Party Is Happening On 'This Is Us' & The Photos Will Get You Pumped
This Is Us fans, it looks like we'll get to enjoy at least a few moments of happiness and light-hearted fun in the new episode airing on Tuesday, Feb. 27. After breaking everyone's hearts with Jack Pearson's funeral, This Is Us took a small break to let fans recover (spoiler alert: I'm still not OK). But the new episode, entitled "Vegas, Baby," shows a time of celebration for Kate and Toby, and these photos of Kate's bachelorette party on This Is Us are definitely pumping me up for an episode of partying, letting lose, and hopefully (please, please, please) no emotionally crippling events.
According to E! News, the newest episode will show Kate (played by Chrissy Metz) and Toby (played by Chris Sullivan) heading to Viva Las Vegas for their bachelor and bachelorette parties, because why have a nice relaxing spa day when you can stay up all night, drinking and gambling?
While we didn't get any exclusive looks at how Toby spent his time in Vegas, we did get to see how Kate spent hers, and it looks entertaining AF.
In one photo, we see Kate and her ~squad~ sipping on fun drinks, looking all dressed up and hella happy. Kate looks like a damn dream wearing a sparkly sequined cocktail dress, and her ladies look equally fly:
Can we also talk about how Beth (played by Susan Kelechi Williams) looks like a goddess, and how happy Madison — Kate's enemy-turned-BFF — looks?
Ladies, you are crushing it.
But it gets even better, because apparently Kate and her ladies will be taking a limo ride while in Vegas, and excuse me, but that's pinkie's-up fancy if I do say so myself.
And how do we know there's going to be a bachelorette limo ride for the This Is Us ladies? Oh, you know, just because WE SEE BETH LIVING HER BEST LIFE heading down the Las Vegas strip:
If Beth were a real person, I'd want to be her best friend.
But remember: The Super Bowl episode's ending threw us for a bit of a loop. We were introduced to a third timeline where we saw Beth's husband, Randall (played by Sterling K. Brown), as an old man, so who knows if this new episode will have any flash-forward scenes, or if it will keep focusing on the past and on the (maybe not-so) present.
In an interview with Deadline, Creator Dan Fogelman spoke a bit about this past, present, and future narrative:
One of our big new turns started at the end of last night's episode. We show a new timeline, in the future, which is extremely exciting for a show that plays in time and has, 'til now, played in the past/present. But there is other stuff coming, too… there is a plan for the show, there always has been, we aren't just shooting from the hip.
It doesn't surprise me that this show constantly has something up it's sleeve, and uses that card effectively at juuust the right moment, causing fans to freak out. Whether it's delivering moments that are impossibly happy or devastatingly sad, this show keeps its viewers (and me) on their damn toes.
But enough about Randall (you know I love you, boo). We're getting pretty stoked to see what goes on while Kate and Toby have one last hoorah as single people. Will there be drinking? Will there be dancing? Will Kate get called up on stage and somehow end up singing to a cheering audience? I'm sort of hoping for all three, to be honest, but at this point, I'll take anything that's celebratory.
Actually, I'll take anything even just mediocre at this point, so long as I don't have to endure flashback memories of our beloved departed, Jack. I still need a minute for that one.
You can watchThis Is Us on Tuesdays at 9 p.m. on NBC.