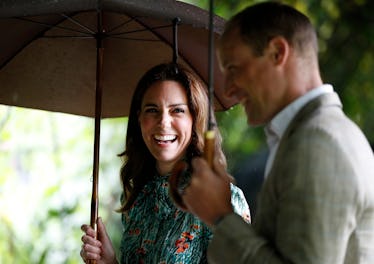 Kate Middleton Makes First Appearance With Baby Bump & The Pics Are Adorable
WPA Pool/Getty Images Entertainment/Getty Images
Kate Middleton is pregnant with her third child and we can't handle it. I mean, our favorite Duchess of Cambridge already dresses to perfection and keeps her hair flawlessly shiny — now she will continue to be full of grace and elegance as she carries the third royal baby. What could make the internet (and myself) freak out even more? Photos of Kate Middleton's baby bump. YASSS! We've been waiting and now the pictures are among us.
It was announced on Monday, Sept. 4 that Middleton was expecting. The news was delivered via a royal press release from Kensington Palace. The statement read,
Their Royal Highnesses The Duke and Duchess of Cambridge are very pleased to announce that The Duchess of Cambridge is expecting their third child. The Queen and members of both families are delighted with the news. As with her previous two pregnancies, The Duchess is suffering from Hyperemesis Gravidarum. Her Royal Highness will no longer carry out her planned engagement at the Hornsey Road Children's Centre in London today. The Duchess is being cared for at Kensington Palace.
"Hyperemesis gravidarum" is a severe form of morning sickness that causes nausea, vomiting, weight loss, and dehydration. Since symptoms usually lessen about 20 weeks into pregnancy, this led people to believe that Middleton was very early in her pregnancy when the announcement was made. Since Middleton could have possibly been less than three months pregnant during the announcement, it's very likely she was not showing yet.
Hopefully, her hyperemesis gravidarum has lessened because Middleton was recently seen out and about with the most adorable, teeny-tiny baby bump. I CAN'T DEAL.
This marks Middleton's first public appearance since the pregnancy news was announced. She stepped out to honor Mental Health Awareness Day with her husband, Prince William, and brother-in-law, Prince Harry on Tuesday, Oct. 10. The family attended a reception at Buckingham Palace to celebrate those working in mental health professions. The Duchess wore a powder-blue, long-sleeve dress with a lace overlay. V pretty.
As you can see, Middleton is just barely showing. It's great to see Middleton out in public and looking glamorous as ever.
I'm sure all members of the royal fam are just as excited as I am. British paparazzi caught Prince Harry the day the pregnancy news was released. He was leaving his car when the papz swarmed him. When asked about the royal baby news, he responded, "Fantastic. Great. Very, very happy."
Way to handle it like a pro, Harry. Baby #3 will add an insane amount of cuteness to William and Kate's family. William and Kate's first born is Prince George. He's only four, but is an exact William mini-me.
This fall, George attended his first day of school and it seriously melted my heart. He looked very nervous as he entered the Thomas's Battersea school in London (he didn't want to let go of dad's hand), but I'm sure he did great.
Unfortunately, Middleton was still feeling too ill to attend George's first day. A statement from Kensington Palace said,
Unfortunately The Duchess of Cambridge remains unwell, and will not be able to accompany Prince George on his first day of school. The Duke of Cambridge will drop off Prince George this morning as planned.
I'm sure she had two-year-old Charlotte to keep her company at home. Prince George's little sister, Princess Charlotte, is also super adorable and loved by basically everyone.
I seriously cannot wait for the third royal baby. My heart may explode.
I'm glad Kate is apparently feeling a bit better. Wishing her a safe and healthy pregnancy. Also, Kate, we wouldn't mind some cute maternity photos. You know, whenever you get a chance.
Check out the entire Gen Why series and other videos on Facebook and the Bustle app across Apple TV, Roku, and Amazon Fire TV.