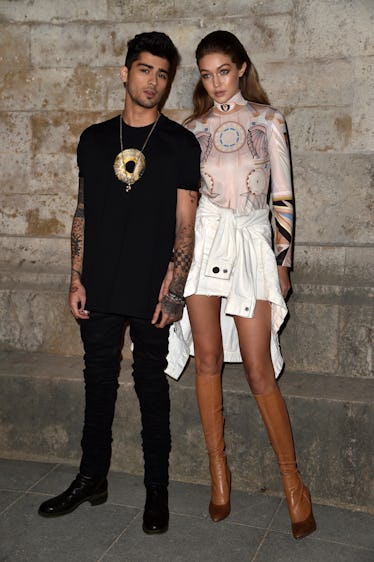 Photos Of Gigi Hadid & Zayn Malik Dressed Up Like 'The Matrix' Are Not A Simulation
Pascal Le Segretain/Getty Images Entertainment/Getty Images
Model street style is on total fire. Every hour my Instagram feed is inundated with a new wave of snaps showing off the impossibly cool looks that fashion darlings sported over the last 24 hours. But lately, the only shots I obsessively seek out are of photos of Gigi Hadid & Zayn Malik's street style, because they're unequivocally reminiscent of The Matrix. Hadid has stepped on in a flurry of Trinity-esque looks as of late and I, for one, can not get enough. When it comes to fearlessly pushing the boundaries of off-duty style, Hadid is the One (to watch).
Before we get into the actual outfits, which would even have Neo weak at the knees, I want to first point out that Hadid's style has been curated in tandem with one of Los Angeles's most in-demand stylists. Her name is Mimi Cuttrell and she works with everyone from Kaia Gerber and Sara Sampaio to Nadine Leopold and, of course, Gigi Hadid.
The first time Cuttrell and Hadid worked together, they realized theirs would be a very collaborative relationship. During the fitting, the two even came up with the hashtag #styledbymigi. As Cuttrell told Coveteur, "I do push her to try pieces she normally wouldn't consider. It's great working with Gigi because she knows the ins and outs of fashion. We definitely push each other to create the best looks possible. It's a collaborative effort, and so much fun."
"Fun" is exactly how I'd describe Hadid's killer style, which has only gotten more and more experimental and playful as she's continued to climb the rungs towards top modeldom. Remember the very pink outfit composed of a matching leather jacket and flares that turned the model into Millennial Barbie and made headlines on every digital fashion outlet? Migi was behind that. And the canary yellow outfit she wore in New York this summer? That was the pair's sartorial brainchild, too.
But now, the duo seem to be taking an increasingly Sci-Fi approach to daring dressing, and it is everything. On January 10th, Hadid stepped out in New York in a long coat, skinny black cat eye glasses, and futuristic high top sneakers. If you know Trinity's style (she's the badass female hacker from The Matrix), then you know that calf-skimming coats and minuscule eyewear are kind of her go-to's.
Later that week, Hadid was spotted in what I'd imagine Trinity might wear for a more casual weekend in Tahoe with friends. It once again featured a long jacket and avant-garde sunnies, but this time in warmer colors; a far cry from the all-black everything looks worn by pretty much every character ever in The Matrix.
Those looks, however, were child's play in comparison to what Hadid wore this past weekend. She and Zayn Malik nailed secret agent duo dressing that was so damn chic, even Edna Mode would be proud. (If you haven't seen The Incredibles get on it stat.) Dressed in black from head-to-toe, they looked like IRL modern versions of Trinity and Neo. Hadid wore a shiny leather trench, matching trousers, and black oval shades, while Malik's look, which also featured a long coat and round shades, boasted a more subtle sheen. If there's a remix of The Matrix in the works, I think we've just found its stars.
It's no surprise that Hadid once again stepped out in a cool co-ord. As Cuttrell, who styled Hadid and Malik, told Coveteur, "I love seeing an amazing set which is timeless and something you don't see everyday. I want my clients to look back on what they wore 20 years from now and be proud of how they looked."
Considering Hadid and Malik's looks have defined futuristic cool since 1999 when The Matrix was released, we have no doubt they'll continue to withstand the test of time.