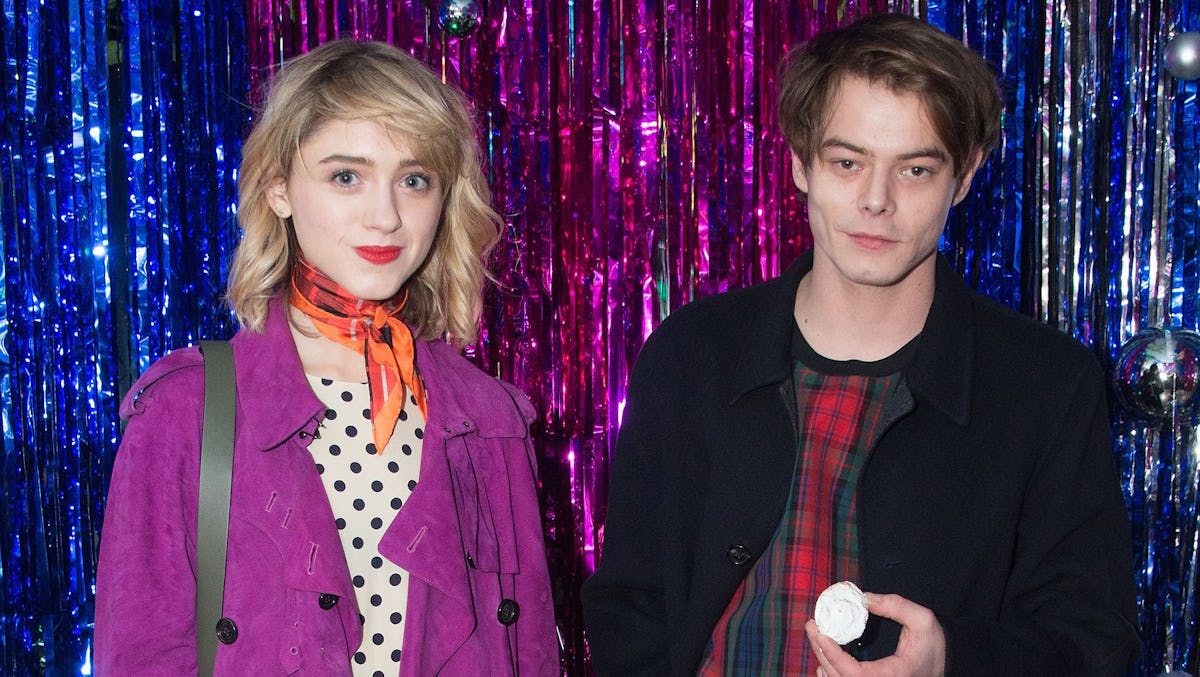 Jonathan & Nancy From 'Stranger Things' Are Officially A Couple & These Pics Prove It
If you've been impatiently waiting for Nancy and Jonathan from Stranger Things to confirm their rumored IRL relationship, your wait is over. Natalia Dyer and Charlie Heaton officially confirmed their relationship by attending their first red carpet just the two of them (no Stranger Things press involved), so now we finally know for sure that they're together. Photos of Charlie Heaton and Natalia Dyer on the red carpet of the London Fashion Awards on Monday, Dec. 4, show these two are hiding their relationship no more, and fans are squealing with excitement.
The two obviously met thanks to co-starring on Stranger Things. They play Nancy Wheeler and Jonathan Byers — the older siblings to Mike Wheeler and Will Byers. While the beginning of season one showed that they were mostly just friends due to their little brothers' friendship, as the show progressed (and as Nancy got involved with Steve Harrington, Hawkins heartthrob turned loving babysitter/mother in season two), the spark between Nancy and Jonathan became obvious. In season two (spoiler alert), Nancy and Jonathan finally got together, and it was what fangirl dreams are made of. Rumors of Dyer and Heaton's IRL relationship began in March 2017 when they were seen walking through an airport together, then walking around Paris earlier this fall, and then attending a Burberry party together earlier this week. But their appearance at the Dec. 4 London Fashion Awards marked the first time they've gone out in public making their relationship clear.
Heaton and Dyer be like, "Are we really gonna do this?"
"We're really gonna do this. And we're doing it for fashun."
Fan reactions to Natalia Dyer and Charlie Heaton dating are everything.
I just laughed so hard at this, and then sadly said, "Oh no... IT'S TRUE."
If the fan reactions to them finally confirming their relationship prove anything, it's that this couple has had stans, fam.
Dyer opened up about the "Jancy" romance in Stranger Things 2 in an interview with Newsweek. In the interview, she revealed Nancy and Jonathan were always endgame and Joe Keery's Steve Harrington was actually supposed to die in the early episodes of season one (THANK GOD that didn't happen). She told Newsweek, "There was overwhelming support for them in season one. It was something that needed to happen." Dyer continued,
That was always the plan. In the first pilot, Steve was going to die; the Duffers liked him and decided to keep him. But there was obviously something between Nancy and Jonathan. I just didn't know they were going to get together so fast. They really went for it!
When it came to filming their ~steamy~ makeout session for season two, Dyer said it wasn't romantic due to all of the cameras surrounding them, but it also wasn't awkward for them (huh, wonder why?!). Although she didn't comment on her rumored relationship status with Heaton, the scene was, according to her, more awkward for the people having to watch and film them. She said,
There's a bunch of people sitting around a monitor watching you make out. Those scenes can be awkward, but for me it was fine. Charlie and I have worked together long enough. There was more tension from other people on set, if anything.
Back in March 2017 when Dyer and Heaton were first seen at that airport together, paparazzi asked them if they were dating. Both looking extremely uncomfortable, Dyer answered, "Whether people are dating or hanging out, I think that our cast is just cool with each other. I won't speak for anyone else, but it's just, you know... We're all one big family." Heaton helped her out by adding, "I think there's a lot of buzz about the show, so people like to read into certain things." Oh, Natalia and Charlie. You say the strangest things. (Hehehe, get it? I'm sorry.)