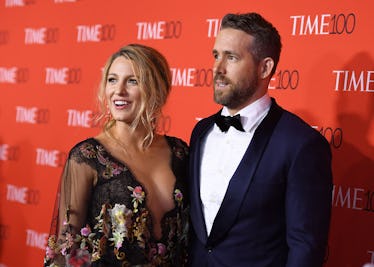 9 Photos Of Blake Lively & Ryan Reynolds That Prove They're The Perfect Couple
ANGELA WEISS/AFP/Getty Images
Blake Lively and Ryan Reynolds are total relationship goals, as this celeb power couple have proven time and again how much of a perfect match they are for each another. Need proof? Check out some of these photos of Blake Lively and Ryan Reynolds that show just how in love they are. But first, a little history.
Reynolds and Lively met on the set of Green Lantern in 2010, so something good did come out of that movie, it turns out. At the time, Reynolds was still married to Scarlett Johansson and Lively was dating Penn Badgley, her Gossip Girl co-star.
She and Badgley broke up in September 2010 and Reynolds filed for divorce from Johansson in December 2010.
In June 2011, Reynolds told Details magazine his relationship status, explaining: "I'm very happy not to be in a relationship right now," adding, "That's OK. I didn't plan on it, that's for sure... but that's OK."
The first reports that the Green Lantern co-stars were dating kicked off in October 2011, with pics of the two spotted together landing online over the year. They went on to get married in September 2012 in Mount Pleasant, South Carolina. Lively told Allure magazine in October 2012 how happy she and Reynolds were, saying: "Right now, I'm so peaceful," adding, "I've never been happier in my life."
Aw.
Lively and Reynolds have two daughters: James, who was born in 2014, and Ines, who was born in 2016.
Let's kick it back to those early days, with Lively and Reynolds looking like they were having a blast at the Green Lantern premiere in 2011:
Can you feel this chemistry?
In the August 2014 issue of Vogue magazine, Lively explained just how close she and Reynolds are, noting: "Everything we do in life we do together. I get to share my life with the person he's become, and we get to grow from there."
Lively and Reynolds are besties, too, as she told Marie Claire in September 2014: "We've never gone a week without seeing each other. He's my best, best friend. If I could spit out a litter of kids, I would."
In 2016, Reynolds explained how he and Lively first got together — on a double date, with other people. He told People: "We were buddies. I remember it was funny because for about a year after Green Lantern had come and gone and all that stuff, we were both single. We went on a double date. She was on a date with another guy, and I was on a date with another girl. That was the most awkward date probably because we were just like fireworks coming across."
Lively, however, didn't quite have the same spark during the double date, explaining: "Went well for him, there were no fireworks for me. No. We were such good friends for so long and we both got to know each other as friends. It didn't click for a good year and a half."
For Reynolds' 40th birthday, Lively shared a sweet message on Instagram: "We fell in love at your restaurant in Boston. We stay in love at your restaurant in NY. Thank you for the BEST food and memories! You are our FAVORITE! Another happy birthday with @vancityreynolds. Hey, Reynolds, I like you a whole lot. Just sayin'."
And when Reynolds received a star on the Hollywood Walk of Fame, Lively shared a pic of the star on Instagram with a message that was too sweet: "Proud is a pitiful word to describe how I felt today. @vancityreynolds The permanence of your impact is undeniable... Always has been, but now we have a fancy [star] to show for it."
How about the way he looks at her? Love. Pure love.
And the way they look at each other? The sweetest.
These two are definitely a perfect couple... here's to a long and beautiful marriage!
Check out the entire Gen Why series and other videos on Facebook and the Bustle app across Apple TV, Roku, and Amazon Fire TV.