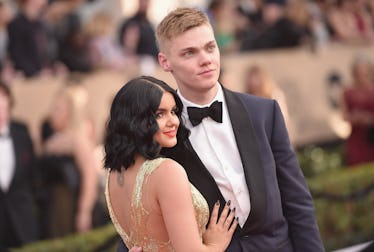 Ariel Winter & Her BF Were The Cutest Couple On Christmas & The Pics Are Everything
Alberto E. Rodriguez/Getty Images Entertainment/Getty Images
Ariel Winter and Levi Meaden are still going strong. The couple spent Christmas 2017 together, which makes sense since they live together and everything. The photos of Ariel Winter and Levi Meaden on Christmas prove their relationship has stood the test of 2017. You know, the test where you see if your sanity can make it through the entire slew of garbage this year has been, including your relationships? Weaden made it, people! (I don't know if that's their official celebrity couple name, but that's what I'm going with.) What's more, there are dogs involved in these photos. DOGS.
The couple, who recently celebrated their one-year anniversary in November, posted a bunch of sweet photos on the 'Gram because they know what their people want. It featured various members of their family all dressed down in Christmas PJs and dressed up for Christmas Eve. In an interview with Jimmy Kimmel over the summer, Winter confirmed she and Meaden moved in together earlier this year. The pair shares a house in L.A., and they apparently also share a bunch of adorable doggos!
Ariel posted a family photo of her, Meaden, and their pups on Christmas, saying, "Kids are a struggle y'all. But Merry Christmas from our little dysfunctional family to yours!!!!"
Let's also talk about how freaking amazing that backyard is. Excuse me, where is my invite?!
She also posted these sweet photos from Christmas Eve, captioned, "Merry Christmas 2017."
Meaden posted some adorable shots of him and Winter kissing, no mistletoe involved.
The Pacific Rim actor captioned the post, "From Christmas Eve to Christmas Day!!! Merry Christmas everyone and thanks to all who took part in our first Christmas!" Confused how these two have only been dating for a year when it feels like it's been ages? Me too. But a year it has been!
Meaden posted a heartfelt Instagram in honor of their first anniversary on Nov. 12.
His caption read, "I can't believe it's been a year. We've had adventures. Gotten dolled up countless times. And travelled through 3 continents together. I never imagined I'd be this happy. I love you more than anything! Happy anniversary Peanut Butter!!!!"
She said,
Happy 1 year anniversary my love. I'm the luckiest girl in the entire world. Thank you for being the incredible man you are, and for making me the happiest I could've ever imagined. Here's to many, many more. I love you. ❤️ P.S. your crazy butt is the only one who could ever make me agree to jumping off a cliff at a waterfall soooo yeah. I love you.
Soooo, yeah. I love y'all too. Meaden's 30th birthday was on Sept. 12, and we'd be fooling ourselves if we thought Winter didn't post anything in honor of that milestone birthday. Winter's birthday post for Levi Meaden was cheesy AF, but I'm here for it. She said,
Happy 30th my love💘Every single second I spend with you I fall more in love. I couldn't be more grateful to be your partner in crime. You are the most incredible man, and I love you more than absolutely anything. I can't wait to celebrate you💗 Here's to many, many more birthdays together ❤️
Meaden's birthday celebrations, according to his Instagram, just consisted of him and Winter spending the day with their dogs. (A perfect day, to be freaking honest.) He posted on Instagram saying, "Amazing birthday thanks to this one!!! Just old movies, us and the dogs. A perfect day!!!"
In Ariel Winter's May interview with Jimmy Kimmel, she told the host Meaden does all of the cooking, but that she bakes pies "occasionally." I imagine she made some epic pies for Christmas this year. I, on the other hand, tried to help my family cook and ended up just spilling my grandmother's homemade cranberry sauce all over the floor. Oops! She said,
My boyfriend and I live together, and he cooks. I can't cook at all. He takes care of all that handy stuff, he's great, he does all that. I can bake a pie occasionally. Pumpkin and apple, I baked those two the other day. They were edible.
"Edible" is the main compliment my mother gives me whenever I try cooking for the family. Merry Christmas!!!