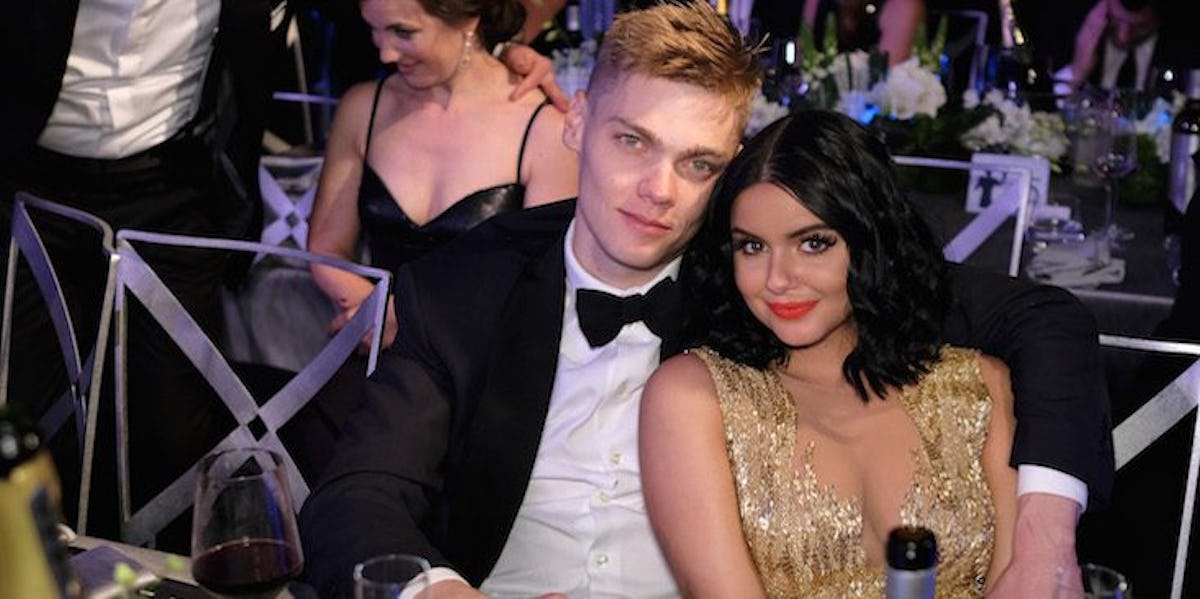 Ariel Winter Posted The Sweetest Birthday Message For Her BF About Their Love
Dimitrios Kambouris/Getty Images for TNT
Ariel Winter is definitely in love and happy to scream it from the rooftops. With her boyfriend turning 30, Ariel Winter's birthday message for Levi Meaden on Instagram gave fans a glimpse at just how much she adores the love of her life. Read on to see Winter's sweet birthday message.
The Modern Family actress shared the birthday message on Instagram, writing: "Happy 30th my love. Every single second I spend with you I fall more in love. I couldn't be more grateful to be your partner in crime. You are the most incredible man, and I love you more than absolutely anything. I can't wait to celebrate you Here's to many, many more birthdays together."
OK guys, that's pretty freakin' adorable. Sounds like the 19-year-old is more than head-over-heels-in-love with Meaden.
Meaden returned the love with an Instagram pic of him and Winter kissing while wearing jerseys with their last names on the backs. From his caption, everything was low-key for his big day, but exactly what he wanted to do: "Amazing birthday thanks to this one!!! Just old movies, us and the dogs. A perfect day!!!"
Winter's boyfriend makes regular appearances on her social media and every pic is more proof that the couple are so into each other.
Winter confirmed earlier this year on Jimmy Kimmel Live that she lives with Meaden, noting: "I do have my own house, last year I bought my first house. My boyfriend and I live together and he cooks [and] takes care of all the handy stuff. I can bake a pie occasionally — pumpkin and apple."
In June, Winter and Meaden showed off their new matching tattoos, with finger ink of peanut butter and cheese, no doubt a cute inside joke they have, and two halves of a heart on the sides of each of their hands so that they make a complete heart when put together. So. Much. Cute.
They just celebrated their nine month anniversary in Aug., with Winter posting a pic of their hang with a giraffe. Yep, you read that right.
Meaden, not surprisingly, was Winter's choice for Man Crush Monday, as she posted this smoochy video on Instagram on Aug. 22.
Winter addressed their age gap in an interview with Maxim earlier this year, explaining: "I needed somebody who had a lot of life experience and who was at a point in their lives that they could take care of another person, but where I didn't have to take care of them. Being with an older guy isn't always amazing, but I got lucky — I have an amazing guy who's super supportive and loving and is just an all-around wonderful human being."
Winter has had to defend her relationship with Meaden in the past, including an Instagram post in June 2017, where she slammed media reports that he was her personal assistant and she paid him an allowance: "Star Magazine is OBVIOUSLY a non reputable source and a trash magazine, but seriously, how dare you make up stuff that you have no idea about? I have a BOYFRIEND and a PERSONAL ASSISTANT who are NOT the same person. I would NEVER pay my boyfriend ANY sort of allowance, nor would he EVER accept if I offered."
She added: "He BUYS his own stuff whether it's for me or himself, and he more than pulls his weight for our life. I HATE fake news, but I guess that's what our world has come to. Get your sh*t straight. I don't support anyone, and I don't need anyone to support me."
She summed it up by writing: "He's got a full career (including something huge that's new) and works hard for it. He's not just someone's boyfriend. So if you don't know us, don't comment. Xoxo."
Check out the entire Gen Why series and other videos on Facebook and the Bustle app across Apple TV, Roku, and Amazon Fire TV.