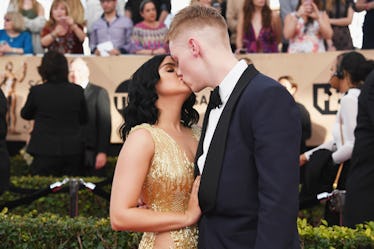 Ariel Winter's Anniversary Post For Her BF Is The Cutest Thing You'll Read Today
Alberto E. Rodriguez/Getty Images Entertainment/Getty Images
Ariel Winter is definitely all grown up and in an amazing place in her life. Since she's first made a splash playing Alex on the ABC comedy Modern Family back in 2009, she's grown up before our eyes. With a successful TV show and career, the now 19 year old actress definitely has a ton to celebrate, which now includes an anniversary! And Ariel Winter's anniversary Instagram she posted for her one year with boyfriend Levi Meaden is seriously too adorable.
The couple were rumored to be dating starting in November of last year, when they were spotted holding hands in West Hollywood. The news of her new beau came just a few months after Ariel Winter broke up with Laurent Claude Gaudette, her boyfriend of two years, back in June 2016. While Winter and Meaden's relationship wasn't immediately made public, the two have been heavy on the social media PDA since. Winter has posted Instagrams for their 6 month and 9 month anniversaries, and now she's adding a full year Insta post to that list. In the adorably sweet message to Meaden, Winter wrote:
Happy 1 year anniversary my love. I'm the luckiest girl in the entire world. Thank you for being the incredible man you are, and for making me the happiest I could've ever imagined.
Ugh, these are serious relationship goals. Ariel Winter paired the message with two adorable photos of the pair — one of them all dolled up and looking at each other lovingly, and the other where they're passionately kissing by a waterfall with her legs wrapped around Meaden. The actress also added in the post that her boyfriend is the only person that can convince her to jump off a cliff into a waterfall, so I guess that's what true love looks like.
The 30 year old actor shared an equally adorable anniversary post on his Instagram for his girlfriend. In his sweet message Meaden wrote,
I can't believe it's been a year. We've had adventures. Gotten dolled up countless times. And travelled through 3 continents together. I never imagined I'd be this happy. I love you more than anything! Happy anniversary Peanut Butter!!!!
It's not exactly clear how the pair started dating, but since Meaden co-starred with Winter's friend Sterling Beaumon on The Killing, it's possible that she and Meaden met through him. In the year that they've been dating, Winter and Meaden have gotten very serious and have even moved in together in the home that she purchased this year. The choice to live with her boyfriend at the young age of 19 was something the media has criticized, but Winter has defended herself time and time again for it.
Their 10 year age difference has been scrutinized by the media since they've made their love public as well. And Winter's addressed the significant gap with poise and confidence. In fact, she doesn't really get what all the fuss is about. When asked about Meaden's age, she told Refinery29, "I don't understand why someone would even comment on our situation at all; I don't think it's that big of a deal... I'm super happy in the arrangement that we have; we love living together and we share all the duties and it's great."
And from the looks of her and Meaden's sweet messages to each other, things are looking great for the two. They've got a long road ahead, and I'll be here to gush over any and all future anniversary, birthday, or "just because I love you" posts that they'll share with the world.
Consider me officially envious. These two are seriously in love, and I think anyone can get behind them and support their happiness. I certainly do. Congrats, guys!