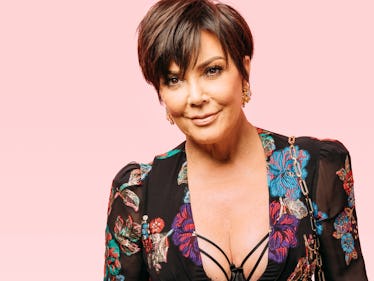 Kris Jenner Has Platinum Blonde Hair Now & She Looks Unrecognizable
RED ALERT. STOP THE PRESSES. PENCILS DOWN. WHATEVER YOU NEED TO DO TO LISTEN RIGHT NOW, DO IT. Are you listening? OK, good, because Kris Jenner has platinum blonde hair now. And I am living. Maybe Kim Kardashian is right... Kris Jenner does kind of copy her looks. But honestly, I don't even care because this photo of Kris Jenner with blonde hair is everything I aspire to be. We first saw Jenner's new 'do when Kim Kardashian (who also has platinum blonde hair right now, lest we forget) posted the iconic picture on Instagram and Twitter on Oct. 23. She posted the picture with the caption, "Caption this....," and people really took the challenge to heart. Kardashian has been blonde for a little over a month now. Lots of people thought she just donned a long blonde wig for a bit, but then she revealed she legitimately dyed her hair platinum blonde and we've been here for it ever since.
Mama Kris has been rocking the dark brown pixie cut for basically a decade now, and now she's serving us "my sixth husband mysteriously just died" vibes. The only thing that could make this look better would be... actually, no. There is nothing that can make this look better because it's already the best it can be.
This is real. This is life. This is goals. This is Kris Jenner: Queen Grandma.
These are the best captions fans came up with.
We honestly can't tell if Jenner is wearing a wig in the photo or if she really committed to the role of Momager Living Her Best Life, Martini In Hand and dyed it. Either way, she's slaying. Don't even get me started on the outfit. I can't handle it. I would stroll up to brunch in this outfit not giving a flying f*ck that my friends would 100 percent complain about how overdressed and extra I am. All I would do is sip my martini (that I brought from home), smile, shrug my shoulders, and sit my fine ass down. Sunglasses would stay on. I wouldn't say a word the whole time. I would just sit there in all of my extra glory and bask in my triumph.
A lot of the Kardashian women have taken the leap from dark brown to platinum blonde hair over the years. Kim Kardashian is obviously blonde right now, but she's also gone blonde three other times in her life.
Kim K first went blonde in 2009.
She did it again in 2013, around the time she and Kanye West got engaged.
In 2015, she went the blondest she had ever been.
But she's outdone herself with this silvery blonde.
And she revealed the reason she went blonde this time in a very NSFW tweet that said she went blonde "for that D." This is scandalous, Kimberly!!!
Kourtney Kardashian had a platinum blonde phase when she was a teenager, but hasn't dyed it that way since.
Kylie Jenner wears platinum blonde wigs all the time and has also dyed her natural hair blonde.
Khloé Kardashian has blonde hair literally right now and has been rocking it for a while.
Kendall Jenner wore a blonde wig in the *checks to see if anyone's listening, gently whispers* Pepsi commercial.
And now, we have Mama Kris.
Honestly, all of this is amazing. I just need Kris Jenner to stay like this forever. If this is a wig, keep it on. If this is your hair, Kris, keep it this way. I never knew how much I needed it until this moment.
Kardashian recently revealed how she keeps her hair healthy after dying it such a dramatically different color (and likely having to bleach it to accomplish the look). And the product is surprisingly affordable! Kardashian apparently uses the Nexxus Emergencee Protein Treatment on her platinum locks to keep them healthy and free of breakage. If you're looking to dye your hair platinum blonde like lots of the Kardashian women have, you might want to invest in this $20 product.
Honestly, what I'm most thankful for through this entire blonde Kris Jenner experience is that we can now apply her most iconic GIF directly to her: