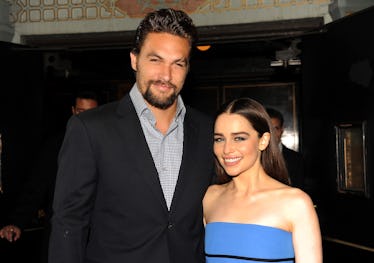 Khal Drogo & Daenerys Targaryen Reunited IRL & The Photo Is Just Adorable
Kevin Winter/Getty Images Entertainment/Getty Images
Moons of my life, where have you been? Every Game of Thrones' fan's deepest shipping fantasies were brought to life on Sunday, thanks to GOT stars Emilia Clarke and Jason Momoa's Instagram showing everyone's favorite Khal and Khaleesi apparently having a night out at the bar. I'm having Season 1 flashbacks, everyone, and I couldn't be happier.
Emilia Clarke, who plays Mother of Dragons, first of her name Queen Daenerys Targaryen on the hit show — and who, off camera, is known for delightful IG shots with her Game of Thrones costars — posted a pic of her and former co-star Momoa chilling out and apparently drinking each other under the table early on Nov. 5. (In case you don't recognize him without his guyliner, Momoa played Dany's first husband, the ill-fated Khal Drogo, way back in Season 1.)
"When life is so good that your sun and stars is in your city…" she wrote. "you lose your eyes and gain 5 grins 😁 (and gins) where until now they'd only been one... (*grins- there's always more gins)" Clarke, who was clearly enjoying the hell out of herself, kept going with some very GOT-specific hashtags:
@prideofgypsies YOU ALWAYS MOTHER OF DRAGONS MAIN MAN 😍 🐲#lookoutjonsnowdrogosgotyournumber #happinessishere#hawaiianhakahunkoffunshutsdownlondon 💪🏻🥂🏆
She paired the caption with the world's most charming snapshot of the two of them laughing uproariously, with her arms around his shoulders and the both of them looking like they're having the time of their lives.
Though Daenerys is currently being paired off with surprise nephew Jon Snow, it's clear who the main man in her life is. Seriously, these two could not be cuter together.
Both Clarke and Momoa are all about showing each other the love on social media.
Momoa, despite being dead on the show for a solid six seasons (seriously guys, can we have a flashback or dream sequence or something? I miss Khal Drogo), is always keeping an eye on what his onscreen queen is doing. Back in August, he took to Instagram himself to cheer on Clarke's character's Badass Moment Of The Season, when Daenerys took her dragon to really tear some sh*t up in a sequence that showrunners and fans called "The Loot Train Battle." A way too simple name for a scene that's basically 10 minutes of a dragon slicing through an army like butter. Angry, flaming butter.
Whatever the scene was called, Momoa loved it. He wrote,
Wish I was there to f*ck sh*t up So proud of Dan and David the cast and crew of GOT Aloha DROGO. DRAKARUS 😜😜😜😜😜😜 @emilia_clarke miss u mama your a badass super proud
Man, they aren't even together in real life (and even in-universe, one of them is, you know, dead) and this is the most awesomely supportive relationship. I am officially 100% here for it.
Despite a troubling beginning for the relationship between the Game of Thrones stars' on-screen counterparts, the relationship between Daenerys and Khal Drogo turned into one of the show's healthiest (OK, it's a low bar) and most enjoyable relationships, as Dany and Drogo found respect for each other and planned their future. It's awesome to see that the people behind the beloved characters seem to enjoy each other just as much. And the fact that they still call each other by their Dothraki endearments is just the icing on the cake.
Can I be the first to suggest a Drogo-and-Dany spinoff show that's just the two of them wandering around the Grass Sea on horseback and being chill together? I doubt you'd have to work very hard to convince the two leads. Khal x Khaleesi 4 Eva.