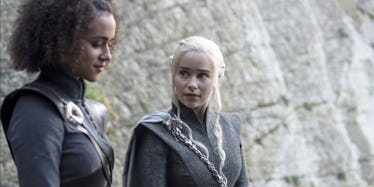 Emilia Clarke's Latest Instagram Might Contain 'Game Of Thrones' Spoilers For Dany's Future
HBO
It's crazy to think Season 7 of Game of Thrones is already over halfway over, but after Episode 4 aired on Sunday night, fans only have three episodes left to look forward to in this shortened season. Thankfully, it looks like those three new episodes are going to be packed with iconic scenes viewers have been waiting years to see... including a possible romance between a certain bastard of the North and a queen of dragons. Now that Jon Snow and Daenerys Targaryen have officially met, fans are counting down the minutes until the frequently 'shipped characters hook up, and a recent post on Emilia Clarke's Instagram could be teasing the Jon-Dany pairing.
Ahead of Sunday's latest Game of Thrones episode, Emilia Clarke posted an adorable photo of herself and Kit Harington goofing off on set together. Aside from being just straight-up adorable, the photo also set the Game of Thrones theorizers into motion. Notice those big jackets Emilia and Kit are wearing and that snowy background? Yep — everyone's thinking this photo means Daenerys will end up heading to the North with Jon Snow this season. Jon's been trying to convince Dany to join forces with him to fight off the White Walkers this whole season, and the photo seems to confirm he will end up getting his wish soon enough.
If Jon and Dany really do head up to Winterfell in the next few episodes, it could also mean fans will get to see even more exciting character meetings, such as Daenerys meeting Arya and Sansa Stark for the first time. It also means Jon and Dany will be closer than ever, as she would have had to finally agree to work together for her trip to the North to occur.
Of course, this geographical shift would turn our attention away from King's Landing, as all the major contenders for the Iron Throne would be heading up to the Wall and leaving the rule of Westeros with Cersei. It'll be interesting to see how the Lannisters will respond to this move.