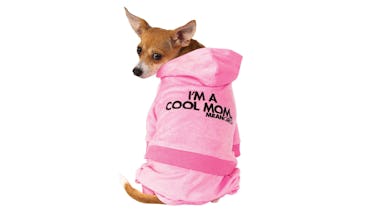 PetSmart's New Halloween Costumes Include A 'Mean Girls' Track Suit That's So Fetch
Deciding on your pet's Halloween costume can be doggone difficult. However, PetSmart's 2020 Halloween costumes are here to make the decision process a lot easier. Instead of searching the internet for inspo, all you have to do is browse through PetSmart's new collection of costumes for your dog, cat, and even your guinea pig that are inspired by some of your favorite movies and Disney characters.
The furry friend costume you decide on together may even give you fun ideas for your own getup. You might end up with an adorable #twinning look that's totally Instagram-worthy. After all, Halloween is about being silly all dressed up and capturing spooktacular content to share.
Among the new items in PetSmart's 2020 collection is the cutest track suit from Mean Girls that your pup can be sassy in while you channel Regina George or Cady Heron. There are also many Disney princess dresses to choose from. Your paw-some prince or princess can have fun while doing their favorite tricks for treats, and you can dress up as your fave counterpart. You are sure to be a dynamic duo for the cutest Instagram selfies together.
If you're still unsure, hopefully one of these 10 PetSmart costumes will be just what you and your pooch are looking for to get the Halloween pawty started.