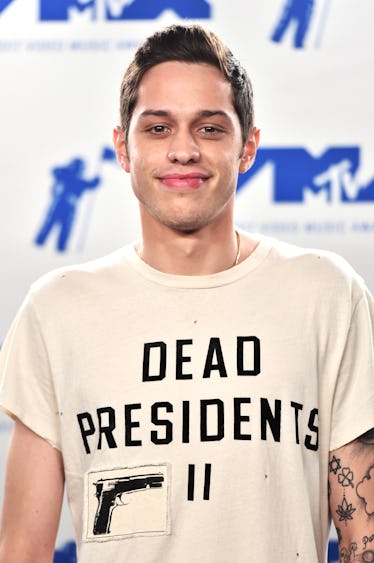 Pete Davidson's First Instagram Since His Social Media Break Is Such A Weird Comeback
Alberto E. Rodriguez/Getty Images Entertainment/Getty Images
It's no secret that Pete Davidson deleted all of his Instagram posts on July 23, 2018. The comedian, who's been engaged to singer Ariana Grande since June, took a step back from social media to focus on other parts of his life. But now he's back on Instagram and in full swing, too. So, what all did he post? Pete Davidson's first Instagram since his social media break is pretty much a reminder of why he hates the internet and social media so much.
Davidson's post is a video he filmed while exiting a building in New York City. Paparazzi are stationed outside the door (so the building is presumably his apartment building where he lives with Grande) and they photograph his every move. "Hey, how are you? How you guys doing?" he asks the photogs sarcastically. "You guys look great, alright." And then, in response to one photographer asking him a question I can't quite make out, he shouts, "Oh, welcome home!" at the top of his lungs.
He captioned the post, "@nbcsnl back next week. f*ck the internet tho..." Check it out:
Davidson's first post to Instagram comes two months after he deleted all of his posts and went on an indefinite break from social media. After deleting all of his previous posts on July 23, Davidson took to his Instagram Story to explain his decision to leave social media for a while.
"No there's nothing wrong. No nothing happened. No there's nothing cryptic about anything. I just don't wanna be on Instagram anymore. Or on any social media platform," Davidson explained.
The move to take a break from social media came as a surprise for many of his fans, especially since he seemed so enthusiastic about sharing his love for Grande on Instagram. But in his statement, Davidson explained that the Internet doesn't always make him "feel good" and he didn't want to focus his energy on anything negative at the moment. "The internet is an evil place and it doesn't make me feel good," the comedian said. "Why should I spend any time on negative energy when my real life is f*king lit. The fact that I even have to say this proves my point. I love you all and I'm sure I'll be back at some point. :) your neighborhood goon, Pete."
CBow Davidson is back on Instagram, but it doesn't seem like his opinion of the internet and the ~evil side~ of social media has changed one bit. Actually, based on his caption promoting Saturday Night Live's return on Sunday, it actually seems like Davidson's return is simply in an effort to promote his show (it is his livelihood, after all).
Of course, his fans are loving that he's back.
But many fans are bummed that the comedian didn't bring back all his old Instagram posts. (His latest post is the only one on his timeline at the moment).
To be fair, considering Pete's apparent disdain for social media, he may not be hip to archiving posts and may have actually deleted all his content when he quit the 'Gram. While that would be quite a shame, it's pretty authentic.
Anyway, based on Pete's sarcastic entry back into the world of social media, I wouldn't bet on him posting too much in the future beyond promotional posts about his projects. But at this point, I'm grateful for anything!