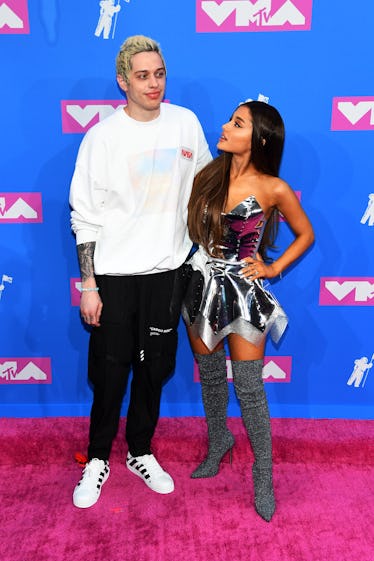 This Huge Change Pete Reportedly Made After His Breakup With Ariana Will Break Your Heart
Nicholas Hunt/Getty Images Entertainment/Getty Images
When it comes to coping with breakups, people adhere to different schools of thought. Some people like to go down the "let's stay in touch but not too frequently" route. Some people go down the "let's stay best friends" route. Some people go down the "let's stay friends and maybe hook up sometimes" route. And then, of course, some people go down the "let's cut each other out completely" route. It seems as though Pete Davidson, 24, has chosen the latter option. I say this because Pete Davidson reportedly changed his phone number after his split from Ariana Grande, 25... which I'm going to go ahead and venture to guess he wouldn't have done if he was planning on staying pals with his ex. (Elite Daily reached out to Davidson's team for comment.)
An anonymous insider told Us Weekly that Davidson has reportedly changed his phone number to "distance himself" from Grande. The insider also noted that "currently, they are not speaking," which, you know, makes sense considering the fact that Grande probably has no way of contacting him even if she wanted to.
"He decided to focus on himself," the source continued. "He's had the matching tattoo that he got with her changed."
The source also noted that the intense spotlight he received after dating Grande was not easy for Davidson to cope with.
"This has been a difficult experience for Pete," the source told Us. "He's always been an extremely private person and the Ariana Grande spotlight and social media were a lot of new pressure for him."
Davidson, himself, opened up about the experience at a recent stand-up gig at his show with Judd Apatow, Judd & Pete for America on Oct. 20. "Well, as you could tell, I don't want to be here," Davidson reportedly told the crowd. "There's a lot going on."
"Um, I've been covering a bunch of tattoos, so that's fun. I'm f*cking zero for two in the tattoo [department]," he continued. "Yeah, I'm afraid to get my mom tattooed on me, that's how bad it is."
"So, obviously, you know I, we broke up or whatever but when me and her first got engaged we got tattoos," he continued. "And it was like in a magazine like, 'Was Pete Davidson stupid?' And 93 percent of it said yes. So my boy, he was like, 'Don't listen to that sh*t man. They're literally f*cking haters.' And I'm like, yeah, f*ck that. I'm not stupid. And the other day we were in my kitchen and he was like, 'Yo bro. Turns out you were stupid.'"
Grande, on the other hand, has kept mostly quiet about the split. According to E! News, Grande shared her first post since the reported breakup on her Instagram Story on Oct. 15, though she has since deleted the post.
"Ok today was v special and i'm so grateful i was able to be there," she reportedly wrote in the now-deleted post about the fact that she was taping NBC's A Very Wicked Halloween alongside Wicked and Frozen star Idina Menzel. "Time to say bye bye to the internet for just a lil bit. it's hard not to bump news n stuff that i'm not tryna to see rn. it's very sad and we're all tryin very hard to keep goin. love u. and thank u for bein here always."
Here's to hoping they both find a way to cope with the breakup and move forward with their lives.
Check out the "Best of Elite Daily" stream in the Bustle App for more stories just like this!