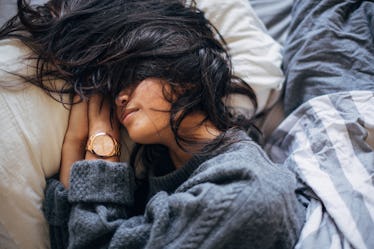 People Who Love To Sleep In Can Seriously Relate To These 6 Things
Oh, that dreaded alarm clock. Why must it go off? Come Monday morning (and to be honest, every other day of the week), the struggle is so real when you hear the annoying sound go off repeatedly. The alarm means well — I mean, it's really just doing its job. But, we really don't want to deal with it right now. Bundling up under the covers and sleeping the morning away sounds like a much better game plan, am I right? I'm sure so many other people who sleep in can seriously relate to this mindset.
We may not want to listen to anyone who tries to convince us that the morning is the time we're supposed to wake up — but we know that anytime in the afternoon is also a perfectly reasonable time to get up and start the day. The way I see it, the morning is meant for sleeping in, the late afternoon is for running errands, and the night is for going out and having some fun. If this speaks to you, you're certainly not alone.
We may be missing out on sunrises, but our dreams are just as beautiful. You've seen one, you've seen them all. You can have your mornings, morning people — but the rest of us will just be over here shutting down the alarm and rolling back over to sleep.