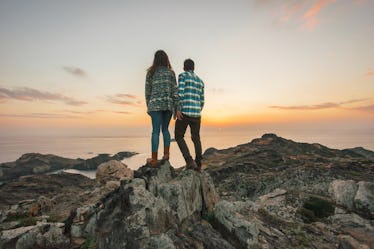 People Who Always Pick The Mountains Over The Beach Can Relate To These 9 Things
Nature is beautiful from any lens you're looking through — but there's definitely a divide in regards to what's a fan fave destination to experience. Getting your fill of surf and sand at the beach is cool and all, but you always leave a little piece of yourself behind in those mountain ranges, don't you? Mountain lovers adore all of those good feels you get when you're looking across a picturesque terrain. People who love the mountains more than the beach have many things in common, aside from their rejection of the sand.
Loving anything tends to impact your everyday habits and behaviors. You're human, and you're trekking your own path in the mountains or not — so it's expected that you wear your love for nature on your sleeve. You might think that you're the only one who has these quirks because of your love for the mountains — but that couldn't be any further from the truth.
Mountain lovers are everywhere. In fact, you might be reading this on your way to a hike as we speak. This might not be a huge population as opposed to the people who prefer the beach, but it exists. So, scream your love for the rocky terrain from the mountaintops, and peep how many others totally relate.