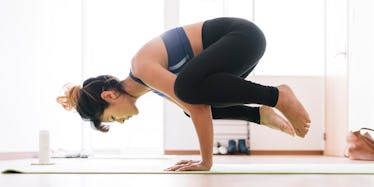 People Who Love Hot Yoga Never Let These 8 Things Ruin Their Flow
Hot yoga is one of those things that, honestly, is only appealing to a certain kind of person. You know who I'm talking about: the person who always feels mysteriously compelled to put the heat on in the middle of summer, the person who wants to borrow your jacket while the rest of us are shedding our layers from sweating so much — who are you guys? For real, though, I have a lot of respect for people who love hot yoga, because personally, I've tried it, and I don't think I'll ever be able to put myself through the fresh hell that is working out in a humid, 105-degree room again. You peeps are an inspiration to us all.
But hot-yoga yogis aren't just weird people who thoroughly enjoy boob sweat and slippery yoga mats. The practice has so many benefits that always keep the Bikram lovers coming back for more. From the invigoratingly detoxifying properties, to being able to achieve deeper stretches due to super-warmed-up muscles, to the satisfying, heart-pumping endorphin rush during sun salutations, hot yoga definitely has a lot going for it.
There are, however, a few struggles that hot yoga lovers know all too well. It's not like these things will ever deter them from their beloved practice, but you'll probably find them sitting down for brunch afterward to fondly complain about the relatable things that sometimes (read: always) happen in hot yoga class.