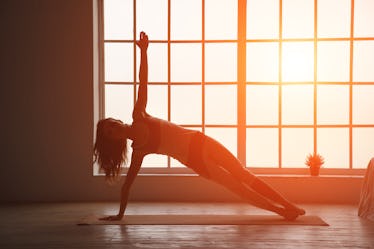 8 Things To Remember The First Time You Do Hot Yoga
I used to pride myself on my ability to complete the most challenging of workouts without ever breaking a sweat — that is, until I tried hot yoga. Listen to me when I say this: There's absolutely no way any human being with a pulse can exit that furnace of a yoga studio without being completely soaked in their own sweat. And, believe me, I'm not trying to scare away any of you first-timers. The reality is, there are a few things to remember the first time you do hot yoga — you know, so you don't channel some major Wicked Witch of the West vibes by low-key melting away into oblivion while you're on your mat.
Hot yoga is, without a doubt, very challenging. In the OG version of hot yoga, otherwise known as Bikram, the room is always set to a toasty and humid 105 degrees Fahrenheit — so, uh, you could say things are going to get a little bit heated during your practice.
As uncomfortable as that sounds, though, I can tell you with confidence that hot yoga can be an extremely satisfying experience. Keep these eight things in mind the first time you try it out, and honestly, you might just find yourself coming back to the studio for more.