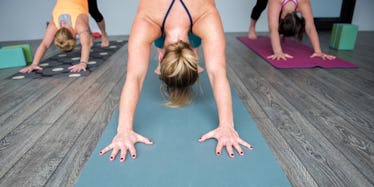 How To Survive Your First Hot Yoga Experience With These 8 Easy Hacks
So, you're thinking about going to your first hot yoga class, but you're low-key terrified that you'll either pass out or possibly drown in a pool of your own perspiration. I feel you fam, but honestly, hot yoga flows aren't as intimidating as they seem, and with the right mindset, they can be so, so much fun. However, there are a few hot yoga hacks that you'll definitely want to have in your back pocket as you prepare for your first sweat-infused experience.
If you can manage to calmly make it through an hour of moving your body on a sticky, sweaty yoga mat in a room that's about 100 degrees Fahrenheit, you can basically do anything, girl. Plus, if you do make it through the full hour, you'll notice a ton of benefits, like stronger muscles, decreased stress levels, and even increased confidence.
Yes, your vision will likely be a bit blurred by your own sweat, and maybe you'll opt to chill in child's pose for way longer than the instructor tells you to, but you might just come out on the other side of the experience feeling wonderfully refreshed and restored (and majorly ready for a shower).
Here are eight hot yoga hacks to help you survive the heat of your first experience — and, you know, actually enjoy it.