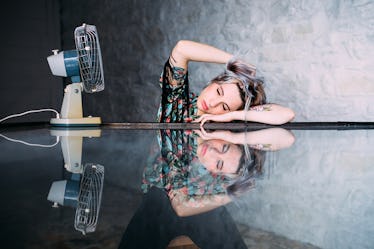 People Who Hate The Heat Really Can't Stand These 10 Things
No matter how brutal it may be, there are some people who just prefer the ice cold depths of winter. If that's you, you know why — you just really, really despise hot temperatures. Don't worry, because you're not really alone. There are a lot of people who hate the heat. While some people prefer the surf and sand, and basking in the sunshine all day long, you like your days better spent ice skating and building snowmen.
People who like the heat really just don't get it. Sure, even to you, summer seems fun in theory. But then you actually start experiencing summer, and well, it's just not quite what you thought it was. Like, for example, sitting on the beach sipping on something fruity sounds fun. It also looks really fun in Instagram pictures. But once you set up your towel, you find sitting in the sand to be the actual worst. I mean, how long are you expected to sit there feeling all sticky and sweaty? And that's OK; the heat really isn't for everyone.
Since you're someone who doesn't like the sizzling sun beating down on you, you know there are some things that people who hate the heat just can't stand. In fact, these 10 things will probably speak to you on another level.