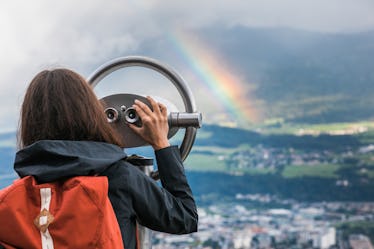 A New Study Says Millennials Are More Adventurous, So Book Your Next Getaway ASAP
Hans Christian Andersen once said, "To travel is to live," but supposedly that taste for adventure dwindles as time goes on. According to a new study, people are more adventurous before their thirties, so millennials should take full advantage of their wanderlust and book that getaway. Now's the time to start crossing destinations off your checklist.
This U.K.-based study reveals that teens and millennials take on a "devil may care" care approach to travel, The Independent reports. However, those in their thirties are slightly more cautious with the types of trips they book. Risky excursions become more of a concern when people reach 34 — the golden number in the findings.
Although 30 percent of participants claim to put adventurous trips on hold because of family while 15 percent do so because of their growing careers, half of the people feel as though their "physical fragility growing" is a concern, according to Travel + Leisure. Yikes! So now is the time not only to plan that much-needed escape, but it's time to take care of your body, too. You'll need as much strength as you can get because you're not going to let statistics stop you from seeing the world.
Though the study is a little daunting for those who are no longer in the millennial age range, there is good news all around: A third of the people surveyed still appreciate a bit of an adrenaline rush, according to Travel + Leisure, so don't feel bummed. All you need to do is take care of yourself properly and you'll find that age is just a number — especially when there are places to explore.
With that in mind, why not get going ASAP? It's a new year, and new opportunities await. If that's not enough to convince you to head out of town, you'll be pleased to know that January is the cheapest month to buy plane tickets in 2018. Now boarding: your flight to paradise.
The first two weeks of the month are particularly important, Skyscanner claims, and its findings suggest that U.S. domestic flights are 16 percent cheaper and international flights are potentially up to 36 percent cheaper than the national average. How's that for an adventure? The site also states in a press release,
Given the predicted spike in prices shortly after January, this is the ideal time for travelers to search and book cheap flights to most destinations, and finally choose a New Year's resolution they'll be more inclined to keep.
No need to tell us millennials again. The main roadblock twenty-somethings seem to experience when backpacking across the globe is finances, and understandably so. Seeing the world doesn't come without a price tag, unfortunately, but thanks to numerous experts weighing in on the situation, there are hacks that save you time and money.
CheapAir.com did quite a bit of research and discovered the top 10 cheapest places to travel in 2018, so start planning. The site's list — based on inexpensive airfare from major airports, excursion costs, budgets accommodations, and "overall destination caché" — includes:
Montenegro, Croatia
Spain
San Francisco, California
Thailand
Las Vegas, Nevada
India
Namibia, Africa
Washington, D.C.
New Zealand
Nicaragua
All of these places provide a unique adventure and the best part is that you can make it to one (or all) of these locations by traveling wisely. Jeff Klee, the CEO of CheapAir.com tells Elite Daily just how to do so.
Flying mid-week and in the off-season will offer best value for money overall. To keep costs down, the best advice is always to avoid high season, wherever you travel. For example, shoulder season in Europe (March to April and September to October) will often give you deep discounts on flights and accommodation, and can be a better time to have a relaxing vacation. You should also keep in mind local festivals and holidays that might impact overall cost, limits on business hours, and numbers of tourists you can expect to encounter.
If you really want to kick your adventurous nature into high gear, there are plenty of trips to take in 2018 that guarantee a new experience, such as city paddle board tours, a race in the sand dunes, and desert camping.
Age is just a number, folks. Enjoy your time away from home.
Check out the entire Gen Why series and other videos on Facebook and the Bustle app across Apple TV, Roku, and Amazon Fire TV.