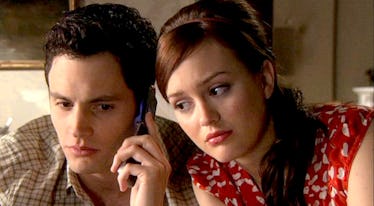 Penn Badgley Just Got Real About The Possibility Of A 'Gossip Girl' Reboot
WB
Sorry, Upper East Siders, but you won't be getting any updates from Gossip Girl for a long time... if ever again. Although Penn Badgley is currently playing a character very similar to his iconic Gossip Girl role of Dan Humphrey on the new Lifetime thriller You, he made clear in an interview with Fox News that the beloved teen drama will not be coming back to television anytime soon. Penn Badgley said a Gossip Girl reboot won't happen for at least 10 years, so we will have to just keep on waiting, I guess.
There have been some rumors about a possible Gossip Girl reboot series for a few years now. Back in 2016, executive producers Josh Schwartz and Stephanie Savage teased that they had not ruled out the possibility of bringing the show back, and last year, star Ed Westwick said that he would be down for a reboot if there was some serious money behind it, though he did voice his qualms that it may be too soon to revisit the characters.
Penn Badgley echoed Ed Westwick's reservations about a Gossip Girl reboot. He said that he does not think any of the show's cast or creative team would be interested in revisiting Gossip Girl right now, but maybe in another decade it could happen:
I don't think that could happen for maybe another 10 years because if you look at the shows that are being rebooted, they're much older. I don't think any of us are interested in that, the creators or the cast.
So, I guess we will check back in 2028?
Penn Badgely is right in saying that a Gossip Girl reboot would be a bit of an anomaly among all the shows getting rebooted right now. Gossip Girl ended pretty recently in 2012, whereas most of the other shows being revived (Will & Grace, Gilmore Girls, Murphy Brown, Roseanne, Full House, etc.) ended in the '90s or early 2000s. Maybe Gossip Girl really does need a few more years away before staging a comeback, which could then see its formerly teenaged characters in adulthood, possibly married with galavanting children of their own.
But fans don't have to go a whole decade without something to feed their Gossip Girl craving — Penn Badgely's new series You is like a more dark and twisted version of the teen drama that made him famous. In fact, Gossip Girl fans who watch You will probably notice a striking similarity between Badgley's new character Joe Goldberg and Dan Humphrey. Like Dan, Joe also uses technology to stalk a pretty blonde woman, and leans heavily into the "lonely boy" moniker that Dan embodied.
I ultimately love Dan. I think Dan is also insane, and I think in some ways… Dan was one or two steps away from this character, so it's kind of an interesting progression.
But while Dan Humphrey was definitely not the best dude, he never hardcore stalked or brutally attacked people in the way that Joe Goldberg does. After all, You is a full-fledged psychological thriller, not a teen drama series. Check out You on Lifetime, Sunday nights at 10 p.m. ET.