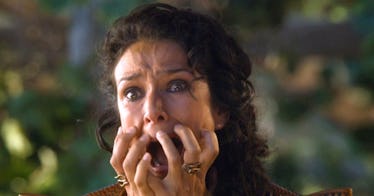 'Wonder Woman 2' Just Cast A 'Game Of Thrones' Star In A Key Role & Fans Will Freak Out
HBO
It looks like Wonder Woman is going to be getting some help from Dorne on her next adventure. The upcoming Wonder Woman sequel has officially added its second new cast member, and the new addition is sure to excite Game of Thrones fans everywhere. Narcos and Game of Thrones star Pedro Pascal is joining Wonder Woman 2 in a key role.
Pedro Pascal's part in the Wonder Woman sequel has not yet been revealed, but it sounds like he will be part of the main cast. His casting marks the second time that Pascal has worked with director Patty Jenkins; the two first worked with one another on Jenkins' 2015 TV movie Exposed, which starred Pascal. This is the second new character that Patty Jenkins has announced for Wonder Woman 2, and the third confirmed star in the new movie. Of course, Gal Gadot is confirmed to reprise the title role of Wonder Woman, and a few weeks ago it was announced that Kristen Wiig was joining the cast to play Cheetah, the villain of the new movie.
After the big announcement, Pedro Pascal celebrated joining the DC Universe on Twitter, and Patty Jenkins also shared her excitement about the new cast member:
Funnily enough, this actually will not be Pedro Pascal's first time acting in a Wonder Woman adaptation. The actor has an extensive background in television work, which includes starring in the never-aired pilot for a 2011 Wonder Woman NBC series. Pascal played a police officer that helped Wonder Woman (played by Friday Night Lights star Adrianne Palicki) fight crime in Los Angeles.
That series was actually written by David E. Kelley, who went on to create HBO's hit series Big Little Lies. Although NBC never aired the 2011 Wonder Woman pilot that starred Pedro Pascal and did not order it to series, you can still find clips from it on YouTube.
Since Pedro Pascal's character in Wonder Woman 2 has not been revealed yet, it's up to the fans to start speculating who he could be playing. Patty Jenkins did tease that Diana Prince would be getting a new love interest in the sequel, so maybe Pascal's character will fill that role, or maybe he will be something more similar to the character he played in that never-aired Wonder Woman TV show and be a law enforcement agent who helps Diana fight bad guys. The rumor is that the new movie is going to be set in the 1980s, so we can at least expect Pascal's wardrobe to have some retro flair to it.
The main thing that we know about Wonder Woman 2 so far is that it will pit Gal Gadot's Diana Prince against the similarly superpowered villain Cheetah, played by Kristen Wiig. Since the movie is still a year and a half away from actually coming out, most of the plot and cast is still being kept under wraps.
The Wonder Woman sequel will follow up the events of the 2017 box office smash Wonder Woman, in which an Amazonian warrior named Diana leaves her home — the all-women island of Themyscira — in order to fight the god of war Ares, whom she believes to be causing the currently waging World War I. Fighting her way through war-torn Europe, Diana gets help from a band of outcast soldiers, and the pilot Steve Trevor, played by Chris Pine. Although that movie end with Steve Trevor's death, there's a possibility that his assistant Etta Candy (Lucy Davis) may reprise her role in the upcoming sequel, considering the character's prominence in the comic books.
Wonder Woman 2 is due to hit theaters on Nov. 1, 2019.