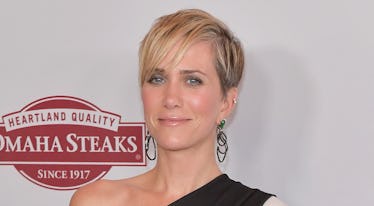 Kristen Wiig Will Be In 'Wonder Woman 2' & Her Role Feels So Oddly Perfect
Neilson Barnard/Getty Images
We are still a long way from the highly anticipated Wonder Woman sequel, but the new movie may have just found its big villain... and the casting choice will probably surprise some fans. Kristen Wiig is in talks to play the Wonder Woman 2 villain, according to Deadline, which would mark the comic actress' first ever role as a supervillain. For fans that know Wiig best for her comedy parts, this casting may seem a bit bizarre, but after learning more about who Wiig is lined up to play, it becomes clearer that she may actually be the perfect choice for the part.
Kristen Wiig is in talks to play the Wonder Woman villain Cheetah in the hit movie's sequel next year. Cheetah has had a very long history in DC Comics, dating all the way back to the 1940s. True to her name, Cheetah looks very similar to the jungle cat, and possesses superhuman strength and agility along with razor-sharp claws. The villain has evolved several times over the years, with four different people assuming the villainous identity. Most famously, Cheetah was the alter-ego for a snobby aristocrat named Priscilla Rich. In the '80s, Rich's niece Deborah Domaine took over. Towards the end of the decade, an archeologist named Dr. Barbara Ann Minerva took over the powers of Cheetah, and remains the current Cheetah. For a little bit at the beginning of the 2000s, a man named Sebastian Ballesteros was able to steal the powers of Cheetah from Minerva and became the only male Cheetah, but Minerva won the powers back from Ballesteros.
With so many different versions of Cheetah in the history of the comics, fans may be wondering which Cheetah we will be seeing Kristen Wiig playing in Wonder Woman 2. Well, the one that definitely sounds most in Wiig's wheelhouse is the first Cheetah, Priscilla Rich. Rich is described as an incredibly vain and self-important debutante, who uses her powers to attack Wonder Woman after the superhero upstages her at a high-profile charity event.
Many of Kristen Wiig's most memorable characters are vainglorious wealthy women who are hilariously out of touch with the rest of society, including her recent TV roles on The Last Man on Earth and Wet Hot American Summer: First Day of Camp. Not to mention that Wiig's other big movie villain role was another high-society meanie: fashion designer Alexanya Atoz in Zoolander 2. Given all of this, Priscilla Rich certainly sounds like a character that we all know Kristen Wiig can nail.
Although Kristen Wiig is best known for making us all laugh with her Saturday Night Live characters and laugh-out-loud lead roles in big comedies like Bridesmaids and Ghostbusters, Wiig has also proven her dramatic chops in a number of acclaimed indie movies over the past few years. She helmed smaller, dark dramas like Welcome To Me and The Skeleton Twins before taking parts in major drama movies like mother! and Downsizing. Clearly, Wiig can bring a lot more than just laughs to a movie role, but if Wonder Woman 2 does decide to lean towards the Priscilla Rich iteration of Cheetah, then it sounds like we will be seeing Wiig go comedy.
Most of the details about Wonder Woman 2 are being kept under wraps, but we do know that it will be set during the Cold War in the 1980s, and Patty Jenkins is returning to direct the sequel and of course Gal Gadot will be reprising the title role of Wonder Woman. We will have to wait over a year and a half to see the new movie, which is slated to be released on Nov. 1, 2019.