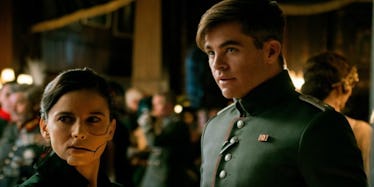 'Wonder Woman' Director Reveals The Possibility Of Having Chris Pine In The Sequel
Warner Bros.
Well, it's official: Wonder Woman is a certified hit.
The most recent addition to the DC Extended Universe (DCEU) is absolutely killing it in theaters worldwide, making it the biggest debut for a female film director ever. (Congrats, Patty Jenkins!)
Of course, because we can't get enough of Gal Gadot's fierceness, there is already chatter of a Wonder Woman sequel in the works. Jenkins herself even mentioned she'd be excited to direct the follow-up.
But, thinking about a sequel to the already ginormous box office hit brings up a very important question that is bound to be on everyone's mind: Will Chris Pine show up in Wonder Woman 2 to reprise his role as Steve Trevor?
Anyone who has already seen Wonder Woman knows (*spoiler alert*) Chris Pine's character sacrifices himself towards the end of the film to help bring an end to World War 1, thus making it pretty impossible for him to realistically return for a sequel.
Naturally, that hasn't stopped us from wishing and hoping he'll be back.
Patty Jenkins gave us a bit of hope when she hinted in an interview with Fandango that she hasn't entirely ruled out the possibility for a Chris Pine/Steve Trevor presence in Wonder Woman 2.
She said,
All I can say is it was a dilemma. It's something I hope we don't talk about in the public [because] I want people to see, but it's very hard to know which characters will be in the next movie because of the time period, so it's a big question.
Good God, please answer that "big question" ASAP, Patty!
Pine is currently signed to a multi-picture deal with Warner Bros. studios. While that doesn't necessarily guarantee he'll appear as Diana's leading man in a sequel, it does make it (at least a bit) more likely he'll grace our screens as Steve Trevor one more time.
I guess we'll just have to keep our fingers crossed that Patty Jenkins will somehow pull a rabbit outta her hat and find a place for our beloved Steve Trevor in Wonder Woman's next chapter.