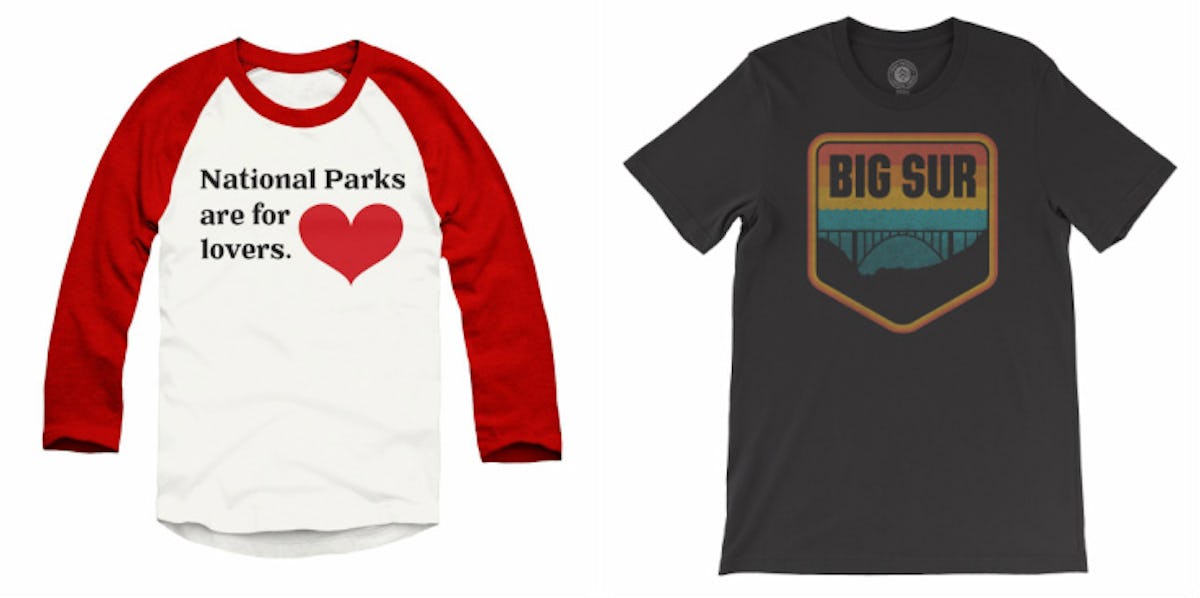 These Retro Tees Are Almost Better Than Actual Vintage & They're Helping Save The Planet
Parks Project
When it comes to clothes that pack a perfectly executed punch of nostalgia, Parks Project tees are the gold standard. Legitimately retro tees—like, those actually from the '70s—have got nothing on them...they're that good. But that's not even the best part. The purchase of each tee directly benefits one of over 30 different National Park conservancies across the United States, specifically the projects that have been backlogged within them. Cool? Exceptionally.
The brand was founded by two rad guys names Sevag Kazanci and Keith Eshelman who used to work together at TOMS. While at the footwear company, they and fellow coworkers would often volunteer at parks within Southern California, helping out with trail work and habitat restoration. The two realized their passion for environmental conservation and were inspired to start their own socially conscious company with the goals of emphasizing the importance of caring for our parks to younger generations and actually helping to do so through their sales.
"During our time volunteering with park staff, we learned about all the unique projects that needed funding, advocacy and support," they explain on their website. "Out of that need (and our love for the parks), Parks Project was born."
Already the brand has made huge contributions to America's national parks. They've planted native plant species in the Joshua Tree nursery, their team has contributed hundreds of hours of volunteer work within their local parkland, and they have a ten-year goal of funding 100 projects and generating 100,000 volunteer hours while reinvigorating passion for our parks. For a more comprehensive detailing of their progress so far, check out this graphic:
If you're a nature lover then this project is probably close to your heart. Why wouldn't you want to support a brand that supports our mother earth? Even if hiking, camping, or looking at stunning nature scapes isn't your thing, I promise you Parks Projects tees and accessories will be. They've got that rad '70s vibe defined by cool retro graphics and certain color combinations but are thoroughly modern in messaging. Check out a few of the best pieces from their new summer collection below or peruse it in full here.
To Top It Off
I've never been to Yosemite. Do I think if I wore this cap my request would be fulfilled? There's nothing more '70s than orange, yellow, and brown in one delightfully lettered design.
Natural High
I grew up in Colorado so this Rocky Mountain shirt speaks to my soul. It's one of the most beautiful places in the world to me so yeah, I'd rep it.
Cali's Calling
You can never have too many black vintage-looking tees, seeing as they go with literally everything. This one pays homage to one of California's most beautiful bits of coastline.
All Hung Up
Park Project's offerings also include wall art and other paper goods, because who doesn't want adventure inspiration hanging from their walls 24/7? There's no better motivation to get out and explore.
Love Land
I've never been hiking in a national park with a lover (my ex-boyfriend preferred virtual video game landscapes to real life ones—WOMP) but I can imagine it would be quite a surreal experience. I have been hiking with my greatest love—myself—though, and that ruled.
Go Green
Become a proud member of the U.S. Civilian Conservation Crops simply by buying this rad jacket.
Daily Mantra
Because if we don't, who will?
Greetings, Earthling
I'm a sucker for original greeting cards, and these ones have me hook, line, and sinker. They're clever, cute, and charitable. Who wouldn't want to receive this kind of a hello?