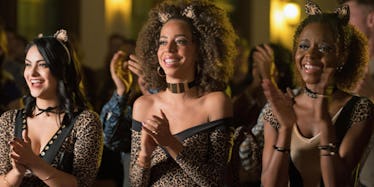 Josie & The Pussy Cats Covered A 'Rent' Song On 'Riverdale' & It Was Everything
The CW
Well, Riverdale fans, we're officially deep into the second season of our fave campy teen drama and sh*t is hitting the damn fan. It seems like with each week's new episode the mystery of Season 2 gets darker, the Black Hood gets creepier, and the suspense gets higher. Lucky for us, though, Riverdale knows how to balance its dark themes and tense scenes with low-key great music. Yes, I said it, the Riverdale soundtrack is fire, and Josie and the Pussycats cover of "Out Tonight" from Rent is the latest track that has me bopping.
We've all known for a long time that Josie and her loyal band of pussycats are super talented; they may have their ups and downs (and they always seem to be pulling in new members?), but their vocals, and especially their covers of classic songs, are on point. They blew us away in Season 1 with their renditions of The Archies' song "Sugar, Sugar" and Diana Ross' "I Feel Love," and their latest bop from Season 2, a cover of Kelis' "Milkshake," is still on repeat. But their latest cover of "Out Tonight" from the musical Rent takes the damn cake, and it might just be their best yet.
Perhaps what makes this particularly upbeat, fun song so captivating on Riverdale is that it's played over a dark scene where Jughead is being brutally beaten up in order to be initiated into the Serpents. The stark contrast between the music and what's happening on screen is almost eery, but certainly captures the tone of Riverdale.
Obviously any true Riverdale diehard is going to want to know where they can listen to this cover on loop until the next Josie and the Pussycats banger is releases; for now, you can find clips of the scene on YouTube and Twitter, but, like all of Josie and the Pussycats' songs from Riverdale, it will soon be available on iTunes and all major streaming services.
If you want to listen to the rest of Josie and the Pussycats' songs from Seasons 1 and 2, you can find them on iTunes, Spotify, and Apple Music on the Riverdale (Original Television Soundtrack) albums. Fans can stream and buy the Pussycats' "Sugar, Sugar" cover, "All Through The Night," "Fear Nothing," and "Milkshake," as well as music from other characters like Archie and Veronica ("Dance Dance Dance," "The Song That Everyone Sings," and "Kids in America").
Earlier this year Riverdale's Ashleigh Murray (the actress who plays Josie) sat down to chat with Bustle about her role and the show's soundtrack. Surprisingly, Murray is not a singer by trade; though she's excited fans love the show's music, especially Josie and the Pussycats' music, she is an actress playing a singing character. The actress told Bustle on her singing abilities,
I just happened to get lucky enough to carry a tune, but it was never anything that I wanted to pursue. People ask me, 'Oh, do you have any music out?' And I'm like, 'No, no I don't.' I just happen to sing. I want to be an actor and if they need me to sing, I will, but it's a lucky gift.
TBH, whether or not Murray is a singer doesn't matter because she's the perfect Josie. As for what we can expect to see later in the season from the girl group, Murray promises there "will definitely be more music."
I've got my fingers crossed we'll see Betty take the mic alongside the Pussycats like Veronica and Cheryl have in the past.
Check out the entire Gen Why series and other videos on Facebook and the Bustle app across Apple TV, Roku, and Amazon Fire TV.