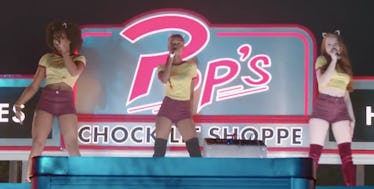 Josie & The Pussycats Performed A "Milkshake" Cover On 'Riverdale' & It Was Everything
The CW
Any fan of Riverdale knows there is a lot to look forward to in any given episode. Tons of drama, shocking twists, and low-key good music. Seriously, if you haven't paid attention to the Riverdale soundtrack, do yourself a favor and do so. On this week's episode, one song in particular stands out and has fans bopping harder than ever. That's right, Josie and the Pussycats cover of "Milkshake" on Riverdale takes the iconic Kelis song and turns it into a stripped down ballad that steals the show, and not just because Cheryl Blossom is part of it. Whether or not you're into the drama of Riverdale, you can't deny this song is fire.
It's been no secret since Season 1 of Riverdale that Josie and her loyal band of pussycats are incredibly talented, and their covers of classic songs are legendary. (I mean, has anyone really forgotten how they reinvented The Archies' song "Sugar, Sugar" or how they blew us away with their cover of Diana Ross' "I Feel Love"? I didn't think so.) But this new version of "Milkshake" takes the cake and might just be a personal best for the girl group, despite the fact that Betty had to trick them into performing at Pop's fundraiser.
Of course, the biggest question on everyone's mind is: Where can I listen to this? For now, you can find this cover on YouTube and Twitter; like all of Josie and the Pussycats' songs from Riverdale, though, it will soon be available on iTunes and all major streaming services.
As for all of Josie and the Pussycats' songs from Season 1, you can find them on iTunes, Spotify, and Apple Music on the Riverdale: Season 1 (Original Television Soundtrack) album. Fans can stream and buy the Pussycats' "Sugar, Sugar" cover, "All Through The Night," and "Fear Nothing" as well as music from other characters like Archie and Veronica ("Dance Dance Dance," "The Song That Everyone Sings," and "Kids in America").
Perhaps the most surprising thing about how good Josie and the Pussycats' music is is the fact that Ashleigh Murray, the actress who plays Josie, isn't a singer by trade. Unsurprisingly, her passion is for acting. Murray spoke with Bustle earlier this year and revealed she's thrilled fans of the show love the music, but that the singing is more Josie's thing than it is her own. In the interview Murrays says,
I just happened to get lucky enough to carry a tune, but it was never anything that I wanted to pursue. People ask me, 'Oh, do you have any music out?' And I'm like, 'No, no I don't.' I just happen to sing. I want to be an actor and if they need me to sing, I will, but it's a lucky gift.
Lucky, indeed, since the cornerstone of Josie's character is her complex relationship with music and her fellow bandmates. Whether or not Murray is a singer doesn't matter as long as she keeps filling each episode with Josie's signature soft, sassy voice. As far as what's to come for Josie and her crew in Season 2, Murray revealed there "will definitely be more music" in the coming episodes, and that's all I need to hear to stay hooked... I just hope Valerie comes back. We love Cheryl, but nothing beats the original Pussycats.
Now all that's left to do is to keep tuning in every week and hope Josie and the Pussycats keep serving us killer covers. In the meantime, you can just listen to their cover of "Milkshake" on repeat... I know that's what I'll be doing.
Check out the entire Gen Why series and other videos on Facebook and the Bustle app across Apple TV, Roku, and Amazon Fire TV.