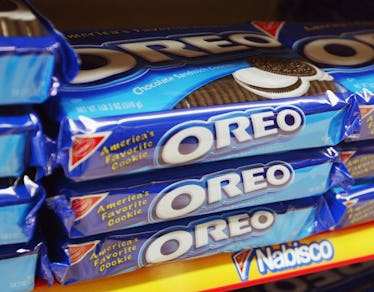 These Oreos Are For Left-Handers Only, So Grab Them (From The Left) While You Can
Tim Boyle/Getty Images News/Getty Images
There is truly nothing more enjoyable than coming home after a long day, grabbing a pack of Oreo cookies, and dunking those suckers into a big ole' glass of milk. At times, ripping open that packaging might have been tedious for some lefties out there, but Oreo's left-handers package makes instant gratification so much easier. Dunk and enjoy, everyone.
On Aug. 13, in honor of International Left Handers Day (seriously, there's a holiday for everything) Oreo introduced their limited edition left-handers package, which "features a flap that opens on the right side of the pack (vs the usual left side opening)," per a press release. So that 10 percent of the population who's left-handed, rejoice — Oreo cookies are now that much easier to get your hands on.
So how can lefties get in on this delicious treat? Here's the inside scoop. Head to Oreo's Left-Handed website and and sign up for the chance to have this extra special treat shipped right to your doorstep. Companies have been creating products the "right" way for years, so this is Oreo's way of changing the norm and introducing customers to the "left" way of doing things.
Plus, for those Virginia natives who just can't wait one minute longer to get their hands on these unique goodies, you're in luck. According to the press release, Oreo has decided to kick off this launch by sending its first-batch of left-handed Oreo packages to Left Hand, VA.
Clever, Oreo, very clever.
It's always an extra special time when companies like Oreo release limited edition items to the public, but this is actually just one of a few surprises that the cookie company has unveiled recently.
On Aug. 8, the internet went into complete uproar when Oreo announced the winner of its #MyOreoCreation contest. Choosing a champion among the three finalists couldn't have been an easy task, but eventually the company crowned the Cherry Cola Oreos as the best of the best. Not only did the flavor creator, Eden Flowell, earn serious bragging rights among her fellow cookie competitors, but she also got to take home a pretty sweet $500,000 for her 80's-inspired flavor. I don't know about y'all, but I have a feeling that must make the cola taste even sweeter.
On Aug. 8, Flowell spoke to Delish.com about her thought process behind creating this one of a kind cookie, and honestly it tugs at my childhood heartstrings. She said,
I started to think about sweet sodas and popsicles and fresh fruit. All of those sweet juicy flavors like orange, grape, lime, and cherry. I was trying to capture flavors that reminded me of happy summers when I was a kid in the late '70s and '80s.
I'm totally on the same page as Flowell. I may be a 90's baby, but I still have so many memories of trying to beat the summer heat with a refreshing flavored soda, especially cherry. So, add that to a delicious plate of Oreo cookies and milk? The nostalgia is very real.
Lefties, I'm happy for you. Finally you'll be able to shave a few seconds off opening that Oreo packaging and enjoying those cookies. Bon Appétit!