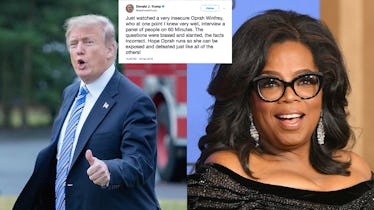 Oprah's Response To Donald Trump's Tweet About Her Is Super Shady & I Love It
Kevin Winter/Getty Images Entertainment/Getty Images & Tasos Katopodis/Getty Images News/Getty Images
On Feb. 22, national treasure Oprah Winfrey appeared on The Ellen DeGeneres Show to chat about all that's going on in her life. Topics from the Parkland, Florida activists to her rumored run for presidency were on the discussion board. However, once Ellen DeGeneres brought up President Donald Trump and his recent comments about her, Oprah's response to Donald Trump's tweet about her proved Oprah is not playing today (and sadly not running for president either).
DeGeneres asked Oprah about her feelings towards the president's infamous Feb. 18 tweet, in which Trump blasted Oprah's 60 Minutes interview from the same day by claiming it was biased. In response, Oprah threw the ultimate shade. She simply shrugged her shoulders and claimed she "doesn't like giving negativity power." Enough said.
In case you need a refresher on what we're talking about, on Feb. 18 Donald Trump took to Twitter to blast one of America's most beloved role models, spokeswomen, and television personality by calling her "biased" and "insecure."
He tweeted,
Just watched a very insecure Oprah Winfrey, who at one point I knew very well, interview a panel of people on 60 Minutes. The questions were biased and slanted, the facts incorrect. Hope Oprah runs so she can be exposed and defeated just like all of the others!
But Oprah served the ultimate clap back. In the interview she was all nonchalance towards Trump's tweet. "I woke up and I just thought —" she said as she made a shrugging gesture. "And I don't like giving negativity power, so I just thought, 'what?'"
Clearly she's not letting his Twitter fingers affect her.
I now decree "DGAF shrugging Oprah" my permanent mood.
Oprah also went on to explain what really went down behind the 60 Minutes episode, which revisited 14 Michigan voters on both sides of the political aisle who she had interviewed in September about Trump's first year in office. Oprah explained that she was extremely persistent in making sure both Democratic and Republican viewpoints were equally represented throughout the interview, despite Trump's accusation of bias. "I was working very hard to do the opposite of what I was hate-tweeted about," she said.
Apart from Oprah throwing some delicious shade at Trump, she and DeGeneres discussed other, more serious, topics during the interview.
One of which surrounded the recent issue of gun control presented by the Parkland, Florida student activists, who survived the school shooting at Marjory Stoneman Douglas High School on Feb. 14. While speaking to the students' resilience, she compared the young adults to the likes of historic activists John Lewis and Diane Nash, who were key figures during the Civil Rights Movement. She also said she plans to donate $500,000 to help the students participating in the March 24 "March For Our Lives" rally in Washington D.C.
Some of the Parkland, Florida students, parents of victims, and gun control advocates met with President Trump on Feb. 21 to address the need for gun control and how to ensure more lives won't be lost to gun violence. Participants shared emotional stories about how the Feb. 14 shooting has impacted their lives since.
Samuel Zeif, senior of Marjory Stoneman Douglas, shared a particularly moving speech revealing his fear of public spaces since witnessing the shooting, and demanding change.
He said,
I don't know how I'm ever going to step foot in that place again or go to a public park after school or walk anywhere. Me and my friends get scared when a car drives by, anywhere ... We need to let ideas flow and get the problem solved. I don't understand. I turned 18 the day after, woke up to the news that my best friend was gone and I don't understand why I can still go in a store and buy a weapon of war, an A.R. I was reading today that a person 20-years old walked into a store and bought an A.R.-15 in five minutes with an expired I.D.
While many were thankful that Trump agreed to sit down and hear the thoughts of gun control advocates, the president's meeting notes tell a much more discouraging tale. Among the list, his fifth and final note simply states "I hear you," leading many to believe that Trump may not in fact be hearing us.
While she may not be running for president, at least we can always count on Oprah to speak the truth.