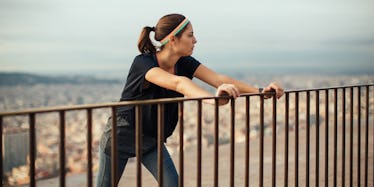 Only People Who Work Out In The Morning Know These 7 Serious Struggles
Waking up at the crack of dawn for anything is hard enough as it is. Your bed suddenly seems like the sexiest thing on earth, and your eyelids low-key feel like they're glued shut. But if you're getting out of bed incredibly early to hit the gym or go to your favorite cycling class, now that's commitment, fam. If you're one of those brave people who work out in the morning, you know the struggles that come with peeling your fuzziest comforter away from your body and making your way out the door to squeeze in a sweat sesh.
Convincing yourself to get into a consistent morning workout schedule can be rough, but somehow, there are people who swear by it, who actually thoroughly enjoy getting those endorphins pumping in the a.m. hours. Are those people of the human species? Now that, I'm not so sure about.
On the real though, just because there are people who thrive on morning workouts doesn't mean that they're always bright-eyed and bushy-tailed every time their early alarms go off. TBH, it's a constant struggle, between sweating and sleeping, pillow time and pilates, sweet dreams and deadlifts (I could go on for days, people).
If you're a morning workout person, here are seven struggles you've probably experienced and can definitely relate to.